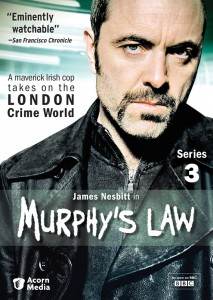 Murphy's Law wants you to think it's gritty. From the first moment of its opening credits, which are like The Wire's run through a bad photocopier for effect, we're meant to believe that Tommy Murphy is one tough dude doing very tough things. There's the brooding mood music that plays under almost every scene. The raspy-voiced criminal underlings with ponytails and earrings. The cops with questionable morality and even more questionable handlebar mustaches. There's also the line "You've got a face like a bucketful of asses."
The truth is, Murphy's Law isn't as tough as it'd have you believe. In fact, the fact that it tries so hard makes it a little less than believable. Luckily, Murphy's Law isn't really trying to be The Wire for Europe. Whenever someone uses the line "You'll be going deeper undercover than you've ever been before," you know you're not dealing with something trying to be exactly… unique. But, what Murphy's Law does turn out to be is a lot of fun.
Perhaps the most fun American viewers will glean from watching this set, though, is the guest appearance put in by Michael Fassbender, who has recently appeared in the film Inglourious Basterds and will feature as Magneto in the upcoming X-Men: First Class. Fassbender is delightfully slimy in the role, and is more magnetic even than the show's star James Nesbitt (though don't think that Nesbitt himself doesn't do a fine job holding the series together – he really does).
The season's six episodes are put across two discs, with only one special feature for the set: a biography of star James Nesbitt. In all, though, Murphy's Law isn't really a must-have. It's fun to watch, but it isn't nearly brilliant enough to warrant multiple viewings. Series 3 hit DVD on February 15, and there's a guarantee that we'll have two more Acorn Media releases for the fourth and fifth series.
You can order Murphy's Law: Series Three on Amazon for $34.99.