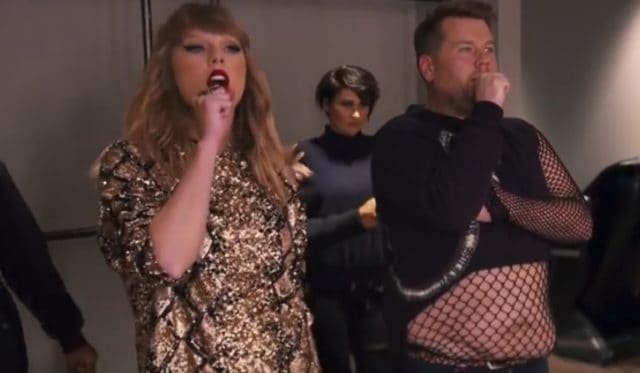 James Corden shaking it off as one of Taylor Swift's backup dancers is just one of the many hilarious things he does as the 'temporary GM'. I think I'm still getting used to Corden's style of comedy since there are times when those he does comedy with are so deadpan that it's hard to tell reality from something that's staged. Obviously it's staged since otherwise some of these folks would be getting seriously irked with his continued antics and might likely call the cops or someone in charge of the Forum, perhaps the real GM, to come and get Corden escorted off the premises. Of course that's not the case since it's a comedy show and everyone's in on it.
James Corden is funny, no arguments and no doubts, but it's such a different type of funny that if you're used to slapstick and the other methods then you kind of have to sit back for a moment and let yourself really get into this guy. His brand of comedy is something that has no shame and no filter at times. He doesn't swear a lot, at least not on his show, but he does come out as a guy that's not overbearing or bossy but still kind of pushy since he keeps his act rolling without much thought as to the reaction of anyone else. Again it's staged but it's almost like he has to be the one and only star in the room that matters.
Maybe Taylor Swift should have let him go on as a backup dancer just to see how far he would take it. I can almost believe that the people at the Forum would have been flabbergasted to see James strutting his stuff onstage while trying to work the song into a giant skit. Honestly though I don't ever see Swift doing this unless she lost her mind suddenly and thought it would be good publicity. Bad publicity is still good publicity right?
I don't get the feeling that such a saying would work here. James Corden is usually best in the car when he's singing along with musicians or behind his desk when he's conducting an interview. When he's up and moving around he just has this hectic feeling that won't go away. It's almost as though he has to move otherwise he's going to fidget and possibly cause trouble until he's able to move around again. Being a comedian and causing trouble though seem to go hand in hand, at least in a fun, playful manner. I mean he's not really doing any harm, he's just kind of being a nuisance as he goes throughout the Forum checking on people and letting everyone know that he's the GM, at least for the day.
The antics he gets up to have a lot more to do with the entire clip than just the little bit with Taylor Swift does since Corden lets the idea of being a GM go to his head and quickly. But of course the gag is worth the effort.