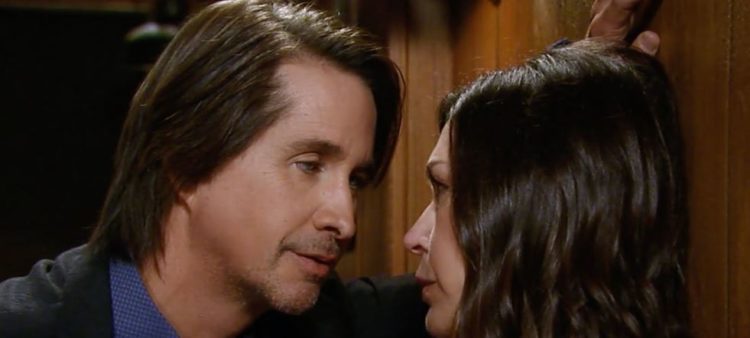 General Hospital fans know things always go down in a way that we least expect, and that's what's been going on around here for some time. We know that things never really work out the way they want them to, but we also know that there is a lot going down right now. For one, there is a moment we have to address going down right now. We saw Nina accuse Valentin of blackmailing her, and we are not sure she is wrong about that. We aren't sure there is a moment of her life she's not been entirely wrong about his motives. He's been trying to get her back, but he's going on all about it the wrong way. It's not necessarily the best choice to do what he's been doing, and she called him right out on it. That made us confident in her decisions and her actions.
We also saw that Obrecht has changed her plan for Peter. She realized what she had in mind was not going to work out for her, so she changed things up a bit. She made sure she was able to get her life in order the way she wanted to get it in order, and she's now going to do what she feels is the better choice. We know, of course, that her choices aren't always that good. She might not have much of an argument there, but we know she's got to get it together and make sure things aren't going to stop her. She's going to do anything she can to take him down, and we also saw that Jason is being cornered. He's lying, working to get Carly free, and someone is on to him. Can he get out of this situation before it's too late, or is he stuck there?
What's Happening on General Hospital
#MCM: We have a feeling @japastu is one of those people with a great driver's license photo. #Valentina #GH55 #ManCrushMonday #Repost pic.twitter.com/uBmRNfzPP2

— General Hospital (@GeneralHospital) June 25, 2018
ABC loves to shout out their men and women during the week, and it was yesterday's man crush Monday (or #MCM as you probably recognize it) with a photo of James Patrick Stuart that made us smile. Of course he's the logical choice for the honor this week, and we loved seeing him there. It's nice to remember he's a normal person with a good personality every so often. His excellent portrayal of Valentin makes it easy to forget he's not just an awful human in every which way. We like him, and we loved him yesterday on MCM.
What's Next on General Hospital
WATCH: Finn may have trouble finding the right words… but still manages to send Anna off properly. 💋@finolahughes #MichaelEaston #GH55 #FAnna pic.twitter.com/zjSdzusRNg

— General Hospital (@GeneralHospital) June 26, 2018
Drew is trying to do what he can for his son. It's still shocking to him that he even has a son at all, but he wants to do right by him. He might not know who he is or what he was before he was made to believe he was Jason, but he knows that he wants to be a good father to the son he didn't even know he had until a few months ago. He's going to go all out to make sure he can do just that, and he's working hard to ensure it happens for him. Will he manage to make it work, or will he have a chance to screw it up and put himself in a dark spot with his new-old son? We don't know. Yet.
We are also going to see Josslyn continue to disobey her mother and do what she wants. She's now going to do something awful, and it might have terrible consequences. She's going to tell a small, very minor lie. It's a white lie all the way, but it's one that she is going to tell that might just have a very negative impact on her life. She's going to tell the lie, find out it's not good for her, and she's going to have a hard time getting out of it when it all comes to light. What she says might get someone in big trouble, too, and we think that someone might just be her mother when it comes down to figuring out what really happened.
Stay tuned for more General Hospital and be sure to check out TVOvermind daily for the latest General Hospital spoilers, news, and updates.