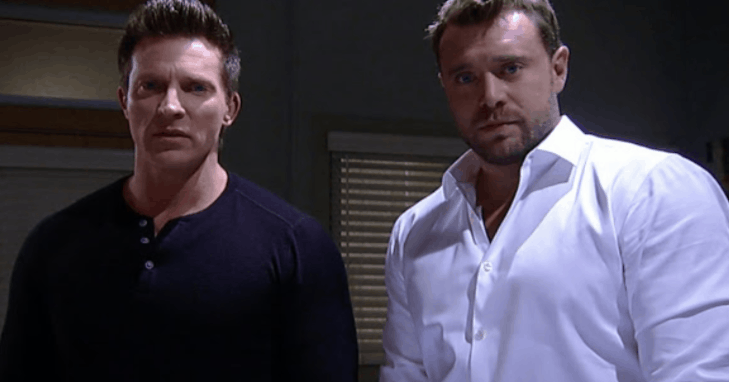 General Hospital fans know that the name of the game is success, and that means making changes when it's necessary. While the show itself is free to make changes and write people off, fire them, hire them, and make things seem like they are changing for the better, the actors and actresses who take on our favorite roles are permitted to do the same thing, too. And that's one of those things. We hate when an actor decides to go, but we also know that sometimes people have to make their own life decisions. With that said, we have a few names of people who recently made the decision to leave the show or return that have really thrown us for a loop and made us feel things we didn't know we could feel.
Matt Cohen
We have this thing for Dr. Griffin — probably about as much as the Jerome girls — and we will miss him. He's been on the show since 2016, but things have been kind of crazy for him the past few months. He feel first for Ava when she was burned and he helped her get better. He fell hard for her, and they seemed like they would make it last with one another, but then they ended things and he turned to her daughter for comfort. That turned into a situation, and things did not end well for Kiki. She ended up dead, and he was no sure how to get past it. He's been struggling substantially in the past few weeks, and we cannot handle it anymore. He's out, and we will miss him.
Ingo Rademacher
He's a man we all know and love, and we could not be more excited to see him show up in Port Charles again. He's Jax. He's always been Jax, and he will always be this character. There is nothing else that he can or will or should do with his life than this, and we are so excited about it. But, we have a few issues of our own to deal with, too. We have to focus on the fact that we cannot imagine how he's been gone so long and that he is finally coming back. He spent the better part of the last year on a new show playing a role, and he was good at it. When he went to the Bold and the Beautiful and agreed to take on the role of Thorne Forrester, we didn't hate it. In fact, he was phenomenal. But, it just wasn't the same for us. We know that he is someone who has been able to make some big changes in his own life, and we know that he's been able to do a few things that are fun and exciting, but we also know that we just know him as Jax and anything else is just weird and strange and not all that right to us. But, he's coming back, and that's what matters the most. He should return soon, too, so that's a thing we can get on board with.
Hayley Erin
Oh, Kiki. We miss her. She was part disaster, part perfection, and always amazing. We thoroughly enjoyed watching her awful road with her mother, and we have no idea how to make it without her. She and her mother have been awful to one another. Sleeping with one another's boyfriends, trying to kill one another, and trying to kill the people they love. They have been nothing short of a total mess in one another's lives, and that's been something we cannot get over. Their dynamic was too good to be true, and we were all shocked when she was killed. We can say that we did not see that coming, that we did not know this would happen, and that we hoped it was not true. However, it is true, and there is nothing we can do but accept the fact that she is gone and there is nothing we can do to stop that or change it. For now, though, we have this to celebrate; she's young and talented and she will not be gone from our lives forever.