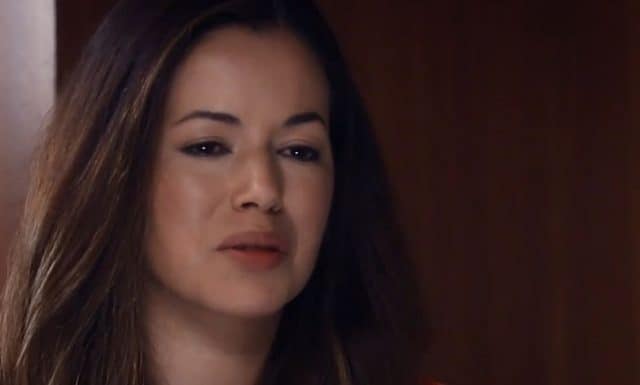 Thursday's brand new General Hospital brings with it a lot of drama and a lot of confusion. The show is going to bring fans to a place where they begin to wonder if anyone can do anything right or if they simply cannot figure it out on their own. For one, there will be a body discovered. Everyone has their own idea of who it is and what is happening, but we don't know who will be right. We know that the body is located on the rocks, and that it's going to mean serious heartbreak for many of the people in Port Charles. What makes us wonder who it is also plays a part in the role Anna has at the moment. She's saying goodbye to someone on Thursday. It's tearful, sad and heartbreaking, but we don't know to whom she is speaking.
Could she be the person who is going to put a body on the rocks? Is the person she's saying bye to the person who will die, or is she going to be the person who does the killing? We cannot imagine her doing anything like that, but stranger things have happened in the past and we put nothing past anyone at this moment. At best, Anna is just sad that someone she loves and cares for is leaving her. At worst, she's in a place where she has to deal with something far more sinister in her life, and she might not be able to handle that when it comes down to it.
Finally, we know that Dillon has been learning a bit about Tracy in the past few weeks, but what he is going to find out about Tracy is going to shock him. What we don't know, though, is whether or not it will shock him in a good way or in a bad way. Will it be something that is shocking in a way that puts someone in danger, or in a way that is just a surprise of sorts? We don't know, but we have an idea we will find out more before much longer.