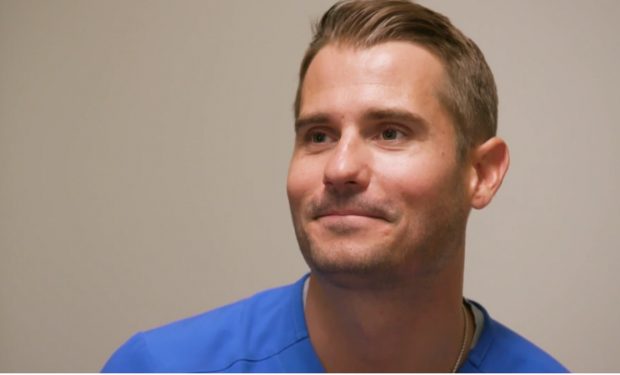 To the world, Dr. Brad Schaeffer is best known for being one of the stars of the TLC medical docuseries, My Feet Are Killing Me. However, do his patients, Dr. Brad is best-known for his kind nature and solutions based approach to medicine. The New Jersey based podiatrist has become a star in his own right since My Feet Are Killing Me debuted earlier this year (2020). Now the show is back under the name My Feet Are Killing Me: First Steps and viewers are excited to see what kind of medical issues Dr. Brad is able to tackle this time. No matter what kinds of issues his patients are facing, Dr. Brad is always dedicated to getting to the bottom of it. Keep reading for 10 things you didn't know about Dr. Brad Schaeffer.
1. He Competed On The Titan Games
Co-starring on My Feet Are Killing Me wasn't the first time Dr. Brad had been on a TV show. In 2019, he was a contestant on NBC's The Titan Games. Dr. Brad proved to be a fierce competitor who made it all the way to the semi-finals. Although winning was the goal, he was thankful that he had the opportunity to show his stuff.
2. He Makes Videos On Cameo
Since appearing on My Feet Are Killing Me, Dr. Brad has built a very impressive fan base of people who love his work. Now his fans have the chance to connect with him even further thanks to Cameo, a platform that allows celebrities/influencers to create a sell customized video shoutouts. He is currently selling videos on Cameo for $50.
3. He Loves To Travel
Dr. Brad truly loves what he does and he has put a lot of time and energy into his career. So when he gets time off from work, he likes to make the most of it and one of his favorite things to do is travel. He has gotten the chance to visit several countries including England and Italy.
4. He's A Graduate Of Temple University
Dr. Brad was born and raised in Pottstown, PA and he decided to stay close to home to get his medical degree. He studied at the Temple University School of Podiatric Medicine in Philadelphia. Prior to that, he completed his undergraduate studies at Palm Beach Atlantic University.
5. He's Not A Fan Of Needles
For most doctors, coming in contact with needles is an inevitable part of the job. However, when he's the patient, he prefers not to have them anywhere near him. In an episode of My Feet Are Killing Me, Dr. Brad needed an injection for an issue with his foot and he wasn't feeling the idea of being poked with a needle – at all.
6. He's A Big Dave Matthews Band Fan
Dr. Brad is a big music fan. When he's working in the operating room, he likes to listen to some good tunes to help keep him going. He told Men's Health, "I'm a big alternative fan. My fave artist and band of all time is Dave Matthews. I like rap, too. Eminem."
7. He Was A Model
Dr. Brad's good looks certainly didn't go unnoticed the first time he popped up on everyone's TV screen. Apparently, those looks have come in handy throughout his life. According to The Cinemaholic, Dr. Brad actually had a brief stint as a model before he became a doctor.
8. He's A Dedicated Uncle
There are plenty of people out there who will be happy to know that Dr. Brad is single. He doesn't wear a wedding ring and hasn't posted anything on social media about being in a relationship. Still though, he is very family oriented is very proud of his role as an uncle. He loves spending time with his niece and nephew and they make frequent appearances on his Instagram.
9. He's A Brand Ambassador
Being a reality TV star comes with lots of perks, and one of those perks is usually a big social media following. Having lots of followers on social media can lead to opportunities with brands who are willing to pay you to simply post about their product/service. Dr. Brad is currently a brand ambassador for Bang Energy, Bared Footwear, and Dermatonics.
10. He Was A College Athlete
Working hard and giving his all has been a part of who Dr. Brad for his entire life. He was a competitive athlete for many years and was a member of the baseball team at Palm Beach Atlantic University. Although his days as an athlete may be over, Dr. Brad still brings that same work ethic with him to the office each day.