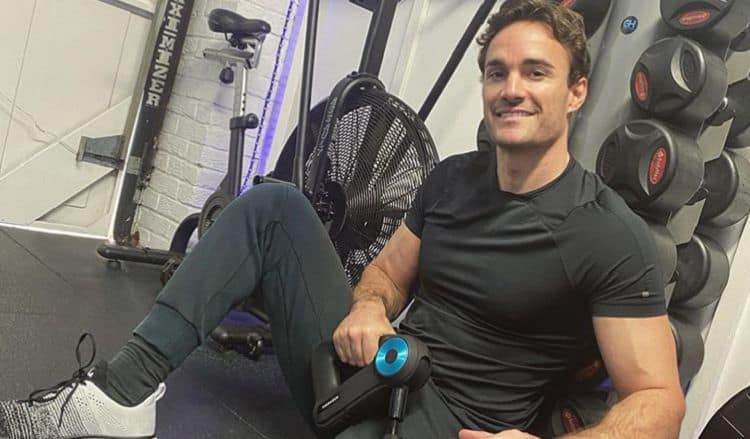 When you date a celebrity, you have to be willing to step into the spotlight from time to time. In his relationship with Nicole Scherzinger, former rugby player, Thom Evans, has risen to the occasion multiple times. Thom, who is a celebrity in his own right over in the UK, has gotten a lot of new attention (especially from Americans) since he and Scherzinger have been together. At this point, he even has his own fanbase of people who can't take their eyes off of him. Keep reading for 10 things you didn't know about Thom Evans.
1. His Rugby Career Ended After A Neck Injury
In 2010, Thom, who had been a rugby player for most of his life, suffered a career ending neck injury in a match against Wales. The injury was so severe that Thom was almost permanently paralyzed. Doctors even told him that he only had a 50% chance of survival. Not only did Thom pull through, but he was walking again in a few months.
2. He's From Zimbabwe
Thom has had a very international upbringing. He was born in Zimbabwe and spent much of his life going to school in England. However, he is of Scottish ancestry. All four of his grandparents were from Scotland. Thom's parents now live in Portugal.
3. He's Dated Other Celebrities
Nicole Scherzinger isn't the first well-known woman Thom Evans has dated. From 2010 to 2013, Thom dated actress Kelly Brook. Sadly, the couple suffered a miscarriage in 2010. He also dated another actress, Jessica Lowndes, who is best-known for her role in 90210.
4. He Loves To Sing
Just like rugby, music has been one of Thom's passions for as long as he can remember. He was a member of a band called Twen2y4Se7en which allowed him to tour as an opening act for bands like McFly and Westlife. He was also a member of a singing group called Try Star made up of other former rugby players. These days, however, Thom doesn't get to sing as much as he'd like.
5. He Met Nicole Through X Factor
Music is one of the things that Thom Evans and Nicole Scherzinger have in common. The two actually met when Thom's band, Try Now, auditioned for X Factor. Shortly after meeting, Thom revealed that he had a crush on Nicole, but neither expected to a relationship to form. However, once they started hanging out the two immediately hit it off.
6. He Signed Up For The Olympics
After Thom's neck injury, he was told that he would never play rugby again. However, he wasn't ready to walk away from the game just yet. Thom told GQ Magazine, "I signed up to play rugby sevens at the Olympics in 2016. It was my last saloon. To be in the gym and training for something, as opposed to doing it for your welfare was amazing. It was therapeutic. My surgeon said not to do it and my mother told me I was a complete idiot going back to play, but it was something I had to do. It was an incredible experience."
7. He's Dealt With Depression
Any athlete will tell you that dealing with an injury is never easy, but that's especially true when the injury means you can never play the sport you love again. For Thom, rehabing from his injury involved healing his mind just as much as it did his body. He admits that he hit a low point once his rugby days were over, and he spent time in therapy to deal with his feelings.
8. He Would Love To Play Mr. Darcey
Thom Evans is an aspiring actor who hopes to one day get the chance to really break into the entertainment industry. He already knows exactly who he wants to play once he gets there. He says that if he had the opportunity to pick the perfect role, he would choose to play Mr. Darcey from the classic novel, Pride and Prejudice.
9. His Brother Is His Go-To Person For Advice
We all need someone we can lean on when we need good, sound advice. For Thom, that person is his older brother. Thom described his relationship with his brother by saying, "We're very similar in a lot of ways. Sometimes he can see things that I can't. Having that person to go to at any time makes such a huge difference. Not many people have that and I really feel for them."
10. He Has Learned To Appreciate Life
If there's one thing you'll never catch Thom doing, it's taking life for granted. Over the years, he has learned how to appreciate every single moment, and he likes to live his life to the fullest. Whether it be working out, spending time with loved ones, or going on adventures, Thom likes to soak up every second.