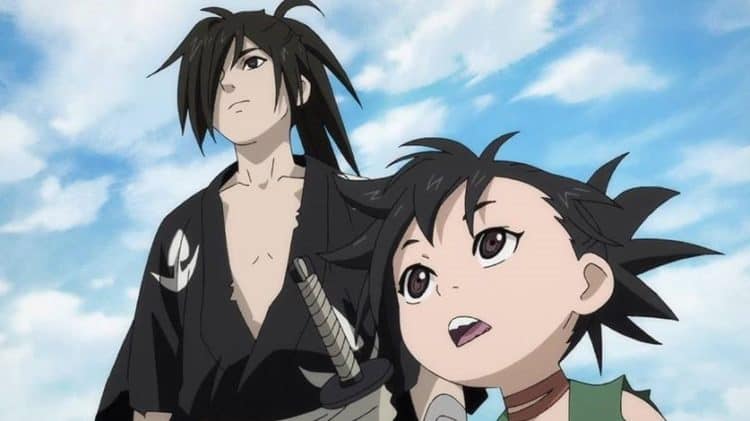 Dororo is about a ruler in Japan, Kagemitsu Daigo, who when his kingdom was not doing well was ready to do anything including denouncing his religion in his quest for power. According to My Anime List, he went ahead to form a league with twelve demons who answered his prayers giving him powers to increase his territory. However, this did not come cheap as his first son was born without body parts such as the nose, eyes, and skin which were eaten by the demons. The lord plotted a scheme to have the boy cast away into a river but he was saved by a medicine man who provides him with artificial limbs and weapons to enable him to grow. The boy grows determined to fight and overcome these evil beings that took his bodies parts as a sacrifice. He actually succeeds when these demons die one by one where the death of each of these demons resulted in him receiving back a body part. However this he was doing it alone until he meets Dororo, an orphan boy who is an outcast christened as a thief but who has a map drawn on his back to trace wealth hidden by his late father. Eventually, both join hands with an agenda of fighting for survival and human beings in a cruel environment dominated by demons.
Release Date for Dororo Season 2
The date of the release of Dororo season 2 has not been announced after the end of season 1 which was released in January 2019 and run for 6 months. It is important to note that the previous season ended abruptly and therefore there is a possibility of the next season coming soon as fans were somehow left in suspense. Dororo season 1 was also very popular as other cartoon anime due to its ability to appeal to different audiences both young and old. According to Spoiler Guy, when the new season is announced it is likely to be available at Amazon Prime Video and Netflix as that is where Season 1 is currently available. The earliest possible time of the release of the new show is 2021 or 2022 as it would take about a year to produce it if it is in the pipeline.
Possible Cast for Dororo Season 2
The cast of the Dororo season 2 may not change much from the previous season with several pointers to that direction. According to Looper, so far even Dororo season 1 has no English version but Japanese one with only Japanese actors such as Rio Suzuki as Dororo and Hiroki Suzuki as Hyakkimaru. There is a promise for the release of the English version of season 1 which is likely to introduce new actors though it has not happened. It is therefore likely that the English version may be released almost concurrently with season 2 which might not give enough time for these new artists to have been integrated to be adopted in Season 2. There is also the aspect of the production companies and the producer (Yasuko Kobayashi) and director (Kazuhiro Furuhashi) who have not been changed and thus they are likely to stick with the same Japanese actors ruling out the possibility of changing the cast.
Plot for Dororo Season 2
The previous season did come to an end unexpectedly as per the fan's expectation and hence their strong feeling that season 2 shall not be released. For example, in the original script, Hyakkimaru lost 48 body organs which would have ensured the journey to recovery would have taken quite a substantial time. This, in turn, would have allowed for an outright direction for the plot but now with only 12 body organs lost in the new script, the plot was almost lost. The expected plot in season 2 is for Hyakkimaru not to be affected by his missing body parts in the animate but rather to live a life of more confidence although excluding anger. On the part of Dororo, she will build up the village from the scratch giving the people living around her the hope to live away from their sufferings. Another expectation is to have the adult life of both Hyakkimaru and Dororo expounded since the issue of missing parts has been dealt with in season 1 with fans anticipating how the life of Dororo shall unfold since her gender has been revealed (she kept pretending to be a boy although it is now known that she is a girl). Fans are also waiting and are excited about seeing the reunion of Hyakkimaru and Dororo.
Alternative Plot for Plot for Dororo Season 2
Hyakkimaru has taken his revenge and also regained all his body parts and therefore speculations are life from the fans that he may take a new path altogether. There is the likelihood that he might assume a different type of life by living as a human being. He would then be able to reveal his good character which he was deprived of by having his body organs sacrificed. The other possible outcome is the reunion of the two bringing out kind acts to humanity as proof that their previous lives were a result of the mistreatment they had received: their actions being more spontaneous than planned acts of cruelty. The silence of MAPPA (the production team) on the date of release of season 2 or even the possibility of the release can only lead to more and more speculations.
Why Dororo Season 2 is Not Yet Out
There is no definite reason given as to why Dororo season 2 has not been released although there are possible causes. One of the major causes is the Covid-19 pandemic which stopped much production works and story writing. This is due to the introduced measures such as restriction of movements and meetings. The other issue is that Dororo is a story that is more than 60 years old meaning that most of the materials are outdated making the sourcing of new materials a daunting task. Finally, there is a theory that the new season may not be there at all as the way it was acted made the audience come to almost associating the animation as a true story. Consequently developing a script with these characters as human beings may not augur well with the fans.