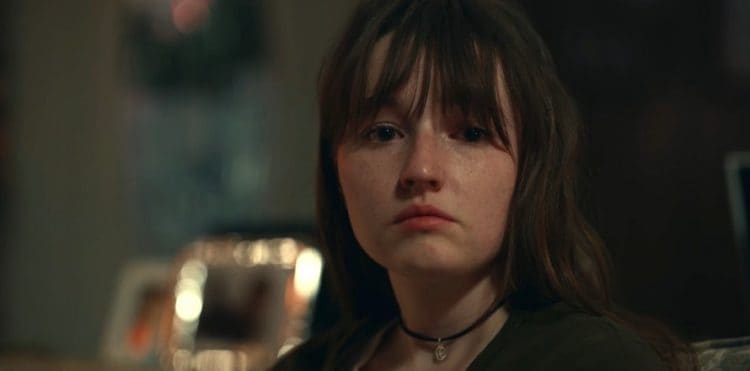 On Dopesick Season 1, Episode 7 we're all shook by Betsy Mallums death and we can almost feel the agonizing pain that her parents are in when they find out that their daughter has overdosed. Dr. Finnix is also shook as he was excited about helping Betsy reclaim her life by getting her on Suboxone.
Retribution
If you've been following the series, then you know that the Sackler family are the big bad bullies who have been getting away with their unethical and downright illegal practices for decades. The Sackler and their company, Purdue Pharma haven't faced any type of legal retributions in getting America hooked on opioids. But all that has changed on the season finale. In Episode 8, the Sacklers and Purdue Pharma are finally receiving backlash. With over 400,000 people dead from Oxycontin overdoses, people are spilling into the streets to protest. Among those protestors is Diane Mallum, she's now determined to seek justice for Betsy and several other young people whom lives have been ruined by Oxycontin.
What happens to Dr. Finnix?
It's 2002 again. After learning of Betsy's death, Dr. Finnix could have relapsed but he remained strong. Dr. Finnix wants to practice medicine again after all helping people is his calling. However, in order to get his medical license back, he has to come off of Suboxone. The thought of tapering of Suboxone is beyond scary to Dr. Finnix and he fears that if he stops taking the medication, there is a possibility that he will relapse. While leaving the doctor, he runs into Elizabeth, one of his old patients. It's clear that Elizabeth is strung out on Oxy. Dr. Finnix catches up to Elizabeth at a diner. He tells her about Suboxone and how it has helped him stay clean for over a year. Dr. Finnix offers to drive her to the clinic every week and pay for the treatment and the medication if she's interested.
Billy Is Fired
After years of being Purdue Pharma's top-earning sales rep, Billy's contract is terminated when his boss suspects him of stealing training videos. They try to persuade Billy to sign an NDA with a $75,000 severance check. They ultimately succeed at getting Billy to sign the agreement by promising the NDA would protect him from getting sued by the company for the missing tapes. Billy is escorted out of the company in front of all his colleagues. Amber pretends like she doesn't care but cries in the bathroom shortly thereafter. She knows that her relationship with Billy is over because she loves her job at Purdue Pharma because the money is too good.
The Fight Continues
The fight against Purdue Pharma is far from over for Rick and Rany. They are offered a ten million dollar settlement which is laughable since Purdue Pharma has caused billions of dollars worth of damage.
Trade Places
Dr. Finnix visits Betsy Mallums parents to give his condolences. Diane doesn't want to talk. Samuel apologizes to Betsy's father and tells him that he if could trade places with Betsy that he would. Betsy's father tells Dr. Finnix to live his life. The emptiness in Dr. Finnix's scene with Betsy's father is heartbreaking. The scene cuts to Samuel helping Elizabeth. We find out that he's also helping another former patient of his get treatment. Dr. Finnix has found his purpose again in helping addicts transform their lives.
Damage Control
Purdue Pharma lawyers meet with community leaders that are signing a petition against them. Diane tells Betsy's story. There are several other families who share similar stories. They beg Purdue Pharma to reformulate the drug. Instead, the lawyers offer them a generous donation to help with their cause. The community doctor almost takes the money believing that it will help with treatment costs. One of the community members tells them that the pharmaceutical company is using manipulative tactics and is only offering them money to keep them quiet.
Million Dollar Lawsuits
Rick and Randy track down Billy sometime after he has left Purdue Pharma. Billy is in school to become a prosecutor. He wants nothing to do with Purdue Pharma. After some prodding by Rick and Randy, Billy anonymously sends them the incriminating tapes that reveal that Purdue Pharma lied as part of their sales strategy. Rick and Randy find out they can't get to the Sacklers but they can start the process of bringing down Purdue Pharma. They settle on a $600 million dollar settlement against the pharmaceutical giant. This deal leads to their boss and other top figures being fired. Richard Sackler cowardly steps down from his position to supposedly focus on his family and makes Michael Friedman. In 2019 the Sackler family becomes associated with shame and disgust. They are forced to forfeit their ownership in Purdue Pharma, millions of class-action lawsuits are filed against them and they are forced to pay out 4.5 billion dollars in settlement amounts. Dr. Finnix is running a wellness clinic dedicated to helping addicts. Dopesick was a brilliant series and offers a glimmer of hope to families that have been impacted by the opioid crisis.
Tell us what's wrong with this post? How could we improve it? :)
Let us improve this post!