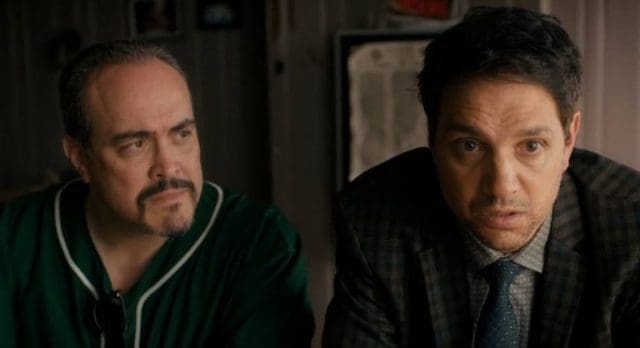 Bet you didn't think there was a film starring Ralph Macchio and Gina Gershon coming out on the 24th of this month did you? Well, Lost Cat Corona is being released and aren't you the least bit curious to see how this turns out? I still have hard time believing that Macchio is not only 50 but that I've mentioned him twice today. Here's the synopsis for the film.
Dominic (Macchio), a hard-working, play-it-safe guy living in the Corona section of Queens, New York, just wants to relax on his day off. But he's ordered by his distressed wife, Connie (Gershon), to go out and find their cat Leonard, who has suddenly disappeared. Exasperated and powerless to do anything but follow her orders, Dominic sets out to canvass his neighborhood, accompanied by his loudmouth buddy Ponce (David Zayas, Gotham). He expects to conduct just a token search for the cat he has no great affection for, but he gets more than he bargained for when he runs into some of the nabe's colorful, wacky – and outright dangerous – characters.
LOST CAT CORONA features an engaging ensemble cast led by Ralph Macchio (The Karate Kid, My Cousin Vinny, the upcoming TV series The Dueuce) Gina Gershon (Killer Joe, Bound), Paul Sorvino (Goodfellas), Sean Young (Blade Runner), Katherine Narducci (The Sopranos) and Tom Wopat (The Dukes of Hazzard).
Check out the trailer below