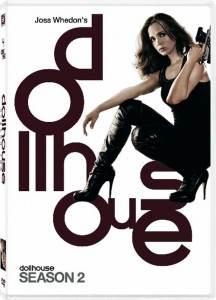 After some delay, I've finally gotten my hands on several weeks' worth of new TV on DVD releases, so it's time to get cracking! I'm starting off my review extravaganza with the second (and final) season of FOX's Dollhouse, which came home on October 12.
The Show
I really wanted to like Dollhouse; I loved Buffy and Angel, liked Firefly, and am a fan of Eliza Dushku. However, I was one of those people who tuned in and tuned out just as quickly; the show just didn't stick with me the way I was expecting. I heard murmurs that it got much better in the second season, so I was curious to see if that was true. Now that I've watched it (and read Inside Joss' Dollhouse besides), I can say that yes, it does get a lot better. Do I think it was amazing? No, but I'll say it was worth my time.
From the start, the show just feels more coherent, and doesn't drag as much. The season opener, "Vows," is my favorite on the disc. I am a little biased, since it's the episode that guest-stars one of my new favorite faces, Law & Order: UK's Jamie Bamber, who does an amazing job as the ruthless arms dealer that you somehow can't help but be charmed by. (As Whedon says in his commentary on the episode, Bamber has so much integrity in the eyes of the audience because of his run on Battlestar Galactica that it makes him a particularly effective villain.) Yet my inclinations aside, the episode is legitimately entertaining and interesting. The plot keeps moving, the characters seem more alive, and the action pieces are really fun to watch. Plus you can never go wrong with an explosion of any kind.
From then on, it's a question of if the series can keep momentum going. It makes a neat turn when it takes FBI agent Paul Ballard (Tahmoh Penikett) and puts him inside the organization he once investigated as Echo's (Dushku) new handler. To replace him as the "villain" (I use the term in quotes because the moral ambiguity makes it hard to say who's good and evil in this series) in comes Alexis Denisof as Senator Daniel Perrin. He, too, is not at all what he appears to be. Then, of course, there's the matter of that pesky vision of 2019 we saw in "Epitaph One."
The majority of season two is something FOX probably hated, given how they handled season one: less stand-alone stories and more of a serial arc, telling us the history of the Dollhouse at the same time that people are working to destroy it. The result somewhat reminds me of the Terminator franchise, in that the characters are working toward the prevention of an apocalyptic future and later dealing with its coming to pass. Like that franchise, it can be bleak. It's also very much a Whedon show in that things get complicated, with characters routinely changing sides or uncovering new motivations. It all leads to an ending that you'll either love or hate.
Likewise, Dollhouse is a show that you're either going to love or hate. Those of you who love the show will own this in a pinch. If you stopped watching in season one because you found it slow or not quite fitting together, as I did, you'll want to give season two a look. (You don't have to have seen all of season one to appreciate season two, though it doesn't hurt.) Yet if you weren't interested in its themes or its dense mythology, you're better off staying tuned out.
The DVDs
The packaging for this set is bare-bones. There's no accompanying booklet; just the titles of episodes on the inside of the plastic case and a list of special features. Likewise, the disc art is sparse. It's kind of disappointing when I've seen that you can do some very fun and creative things with DVD packaging.
Dollhouse is a four-disc set, with the discs able to be flipped through. There's no indication on the discs themselves of what's on which disc, so you'll have to consult the package.
Presentation-wise, though, this one is pretty good. You have 1:78:1 widescreen video that's accompanied by an English 5.1 Dolby Digital audio track. The discs are closed-captioned, with an impressive array of subtitles for a DVD set: English SDH, Spanish, French and Portuguese. I found the video and audio to be crisp and clear both on my Blu-Ray player and on my laptop. This set might be blah on the outside, but there's a good transfer inside, and that's what's most important.
The Special Features
In a way, fans are lucky that Dollhouse got the axe early and didn't teeter on the brink for awhile. Not only did Whedon get to wrap up the show but the DVDs also have complete special features that cover the whole series. There are two featurettes: one a retrospective interview with Whedon, and another with Whedon and the cast. They get to look at the series as a complete body of work, and therefore so do we.
There are also two commentaries: one on "Vows" with Whedon, and one on "Belonging" with Jed Whedon and Marissa Tancharoen. Unfortunately, there are no cast members involved. (At least Eliza Dushku appeared on a track for season one.) The former is my favorite, because since it's the season opener, Joss talks about how the show changed between its first and second seasons, and what he was hoping to accomplish. That additional information is insightful for those who may have lost interest in season one or perhaps didn't see it at all. I'm surprised that there aren't commentaries on any of the later episodes, especially the last one; those would seem prime places to put a commentary track.
There's also a collection of deleted scenes and outtakes.
The Bottom Line
While I enjoyed this release, I honestly can't give it more than a rental recommendation because it's the kind of show you really have to be sure you like before you buy. There's a reason it divided even Whedon fans. I'm glad that I added it to my collection, but before you invest $33 (at least according to Amazon's current price), give it a peek.