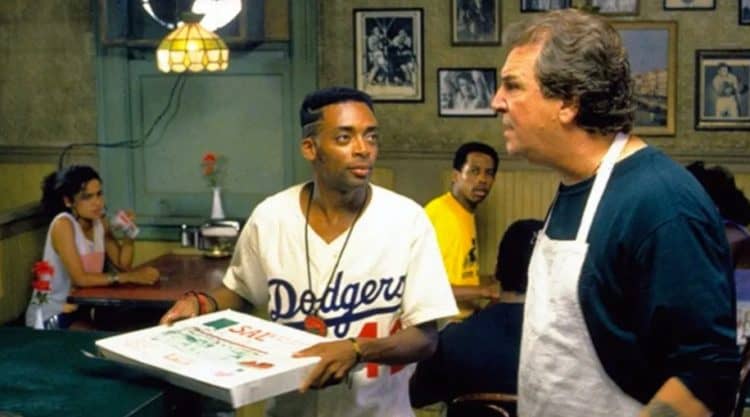 30 Years after earning his first Oscar nomination with "Do the Right Thing"; Spike Lee won his first Academy Award in 2019 for "BlacKkKlansman". I can't decide which fact is more unbelievable, that it took the incomparable Lee another 30 years to competitively attain his first Oscar or that "Do the Right Thing" is 30 years old! For me, it has to be the latter. Maybe it's because it remains as classically relevant as it does timeless? Or perhaps it's because I have a hard time accepting the fact that Mookie would be in his 60s now? Probably the best explanation is that "Do the Right Thing" is simply a timeless classic.
30 years after its release, "Do the Right Thing" is still easily my favorite Spike Lee joint. It seems whenever I am in the mood for a truly multidimensional narrative with cleverly versed, intelligent, sharp dialogue, I can never go wrong with "Do the Right Thing". Each time I view this groundbreaking film, it's like I am looking at it anew. I simply marvel at the scope of Lee's vision. Frankly, the logistics and concept of the film alone seem much too ambitious for a young director still trying to plant his flag amid the professional film industry. Add the extremely controversial subject matter and it's a wonder Lee kept his head above water. The highest compliment that I can pay this true staple of American cinema is that after three decades, each time I view it I'm still struck by new facets and intricacies that amaze me.
One element that I constantly and continually appreciate is the marvelous acting. "Do the Right thing" features one of the most eclectic ensembles of the last 30 years and hindsight validates the fact that all roles seem perfectly cast. What is even more remarkable is that the mostly unknown cast of "Do the Right Thing" now comprises a roster of some of the most successful and well respected names in Hollywood. The film features Bill Nunn as the commanding "Radio Raheem". Nunn, who passed away in 2016 at the age of 62, compiled a career that included over 70 film and television credits including Lee's "He Got Game" and Sam Raimi's "Spider Man" trilogy. The role of Radio Raheem's fellow instigator "Buggin' Out" was unforgettably portrayed by Giancarlo Esposito.
Since his incendiary work in Lee's "Do the Right Thing", Giancarlo Esposito has gone on to appear in over 50 films including Lee's "Mo' Better Blues" and "Malcolm X". Esposito has also generated intense critical acclaim for his television work including reoccurring roles on AMC series "Breaking Bad", for which he garnered a best supporting actor Emmy nomination, and "Better Call Saul". "Do the Right Thing" also features the screen debuts of Rosie Perez and Martin Lawrence. Since announcing her presence with unmistakable carnal radiance in the film's opening credits, Rosie Perez has had a steady working film career that has included the hits "White Men Can't Jump", "It Could Happen to You" and "Pineapple Express". She also received a Best Supporting Actress Academy Award nomination for 1993's "Fearless" and was a regular host on ABC's "The View" in 2015.
In addition to being one of the most successful stand-up comics of the last 30 years, Martin Lawrence had his own successful sitcom and owns a very impressive film career. Lawrence's "Martin" show ran from 1992-1997 while his movies, including the "Bad Boys" and "Momma's House" franchises, have grossed more than two billion dollars at the box office worldwide. All cast comparisons however pale to the accomplishments of Samuel L. Jackson. Despite having less than ten career film acting credits at the time of filming, Jackson's "Mister Senor Love Daddy" serves as both the film's narrator and conscience. Since "Do the Right Thing", Samuel L. Jackson has simply gone on to become the most monetarily successful film actor of all time with his movies exceeding a worldwide box office total of $15 Billion.
Interestingly enough, amid all of the essentially unknown actors used in "Do the Right Thing", Spike Lee originally wanted Robert De Niro for the role of Sal. According to Lee, De Niro read the script and liked it but felt it was not right for him. I'm the biggest De Niro fan in the world but I am glad he did not accept the role of the founder and proprietor of "Sal's Famous". No doubt De Niro would have turned in a wonderful performance but the film works too magically as an ensemble. I believe that if the titan that is De Niro would have been cast, he would have garnered, fairly or unfairly, an unequal share of the spotlight. Another reason is the powerful, phenomenal performance that Danny Aiello turned in. This is my second favorite Danny Aiello performance in film behind his masterful turn as Johnny Cammareri; however, it is surely his most dynamic role. He even received a best supporting Oscar nod, but lost to Denzel Washington for his work in "Glory". Not bad for a man who was a bus driver turned bouncer, didn't get into acting until he was in his mid 30s and didn't make his film debut until he was 40!
"Do the Right Thing" also features Danny Aiello's real life son Rick Aiello as Officer Long, Radio Raheem's executioner. As far as Sal's son's go, I found it interesting that John Turturro was cast as Pino, the older brother to Vito, played by Richard Edson. This is because Richard Edson is older than John Turturro in real life. At the time of filming, Edson was 34, Turturro was 31. Overall, the element that I appreciate most about "Do the Right Thing" is its sheer audacity and boldness. After 30 years, these characteristics have not only remained current, they grow ever more glaring. Do the Right Thing's insight as social commentary is indisputable. The time was ripe for the fire to be set under the debate that was racism and "Do the Right Thing" provided the powder keg. At the film's premiere at the Cannes International Film Festival, Lee stated at the press conference, "This film is not about just New York City, It's about the world. Racism is all over the world." Those sentiments could easily be more applicable to society in 2019 than they were three decades ago.
Since its 1989 release, the success of "Do the Right Thing" is undeniable. The many achievements of the film are not only represented by the incredible script or the sensational acting performances, but the awareness for which it fostered. In an era where the debate about racism needed to be sparked, "Do the Right Thing" created the tinderbox and served as the igniter. As a result, Lee indeed caught a barrage of denigration. Writer David Denby referred to Spike Lee as "a commercial opportunist". Critic Joe Klein wrote that the director was "a classic art-school dilettante" and criticized the "dangerous stupidity of Spike Lee's message". 30 years later, the words of Malcolm X resonate now more than ever: "If you have no critics, you'll likely have no success".