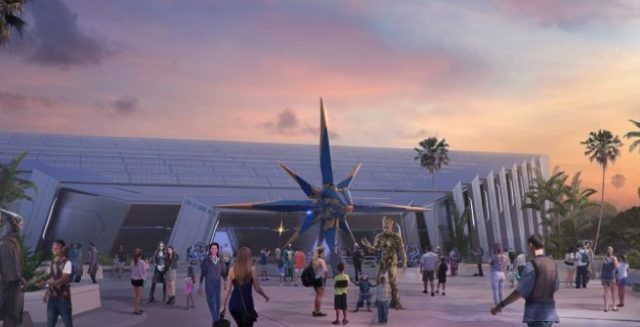 Disney introduces new rides to its theme parks on a regular basis. Given that Disney owns the Marvel Cinematic Universe, it should come as no surprise to learn that it has not hesitated to tap into its commercial potential for its theme parks. For proof, look no further than the new rides that have been announced for Disney's theme parks, which will be based on various parts of the Marvel Cinematic Universe.
First, there will be a new ride based on Guardians of the Galaxy, which will be situated in Epcot at Disney World. Not too much information has been revealed about the new ride. However, it has been stated that it will be an enclosed roller coaster, which will be long enough to be counted as one of the lengthiest rides of its kind that can be found in the entire world. Currently, the new ride based on Guardians of the Galaxy isn't expected to open until 2019, but when it opens, it will allow interested individuals to join in on one of the adventures of Star-Lord and the other members of his team.
Second, there will be a new ride based on Ant-Man. To be exact, the new ride will be based on Ant-Man and the Wasp, which makes sense because the movie is coming out in the summer of 2018. As a result, once construction on the ride at the Hong Kong Disneyland, it should be at the right time to benefit from the boost from said movie. Based on the name, it should come as no surprise to learn that the new ride will be featuring the titular superheroes taking on Hydra bots, though it remains to be seen whether there will be an element of audience participation through the use of light guns as well.
Third, it has been announced that Disneyland Paris will not be getting a new ride. Instead, its Rock 'n' Roller Coaster is going to be reinvented as an Avengers attraction, which is similar to how an attraction at Disney California Adventure was reinvented as a Guardians of the Galaxy attraction. Next-to-no meaningful information has been revealed about what interested individuals can expect from the reinvented attraction, save that it was be based on the premise of an Avengers mission, which isn't exactly what one can call ground-breaking news.
Regardless, it will be interesting to see what happens based on the performance of these rides. Currently, the Marvel Cinematic Universe is showing a remarkably consistent pattern of success, so it is not unreasonable to suspect that should these rides prove to be successful, more rides based on said properties will start popping up in other Disney locations. As a result, if people are upset that something that they are interested in hasn't been announced for a Disney location that is situated at a convenient place for them, they should continue keeping an eye out for further announcements because their patience could pay off sooner rather than later.