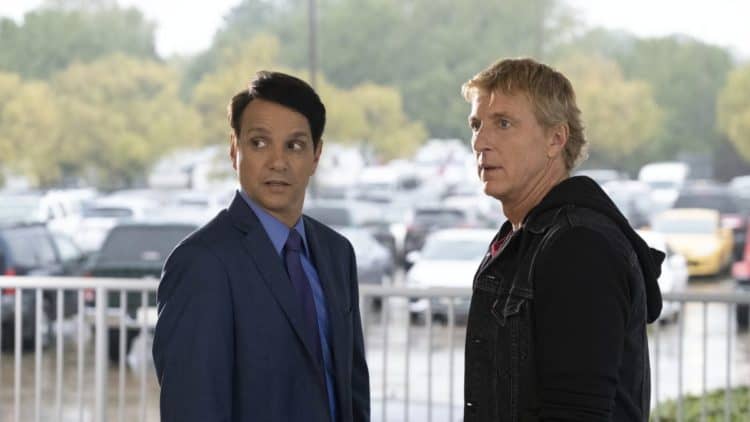 The Karate Kid is arguably one of the most iconic movie franchises of the 1980s. So when YouTube Red launched a series based on the show in 2018, it didn't take long for it to become a huge hit. In fact, Cobra Kai eventually became so popular that it was picked up by Netflix for its third season. The show has found the perfect balance between new and old, and it's one of the few reboots that appeals to new and old fans. Although people who have been watching Cobra Kai since season one probably feel like they know everything about it, there's one thing that may have fallen through the cracks. Cobra Kai shares an interesting link to The Tonight Show that not many people are aware of. Keep reading to learn more about how Cobra Kai is connected to The Tonight Show.
How Is Cobra Kai Connected To The Tonight Show?
You don't have to be a TV buff to know that Cobra Kai and The Tonight Show don't have anything in common on the surface. However, behind the scenes, there is something that ties the two shows together. William Zabka, who plays Johnny Lawrence in The Karate Kid movies and Cobra Kai, is what ties both productions together. Although William is the first person in his family to pursue a professional acting career, he isn't the first person to have a career in the entertainment industry. Both of his parents worked behind the scenes. His father, Stan, was a writer and director and his mother, Nancy, was a production assistant. So, here's where The Tonight Show comes into play. Both of William's parents were part of the show's crew who started the early days of Johnny Carson's tenure.
A Late Night Love Story
According to an article from The Union, Stan went on to direct the show for more than 20 years. During that time, he worked under two hosts in addition to Carson. It was actually while working on The Tonight Show that he met William's mother. Stan told The Union, "Nancy worked with me in the control room of the Tonight Show. I sat next to her five days a week for quite a while. Finally I asked her if she'd like to have dinner, she said 'yes,' and nine months later we were married." Essentially, William Zabka wouldn't even exist if it weren't for The Tonight Show. In 1964, Stan was even invited to appear as a guest on The Tonight Show. During the appearance, he premiered his debut album, The Paris Strings Play Zabka's Themes from Television. After many years of success with The Tonight Show, the Zabka family decided to relocate to the Los Angeles area where Stan continued to have a successful career behind the scenes.
What's Next For Cobra Kai?
Cobra Kai is getting ready to head into its fourth season, and fans couldn't be any more excited. Although the feud between Cobra Kai and Miyagi-Do will always be in the background, we'll probably see LaRusso and Lawrence come together for the greater good in the upcoming season. The fact that The Karate Kid franchise has been able to withstand the test of time is a true testament to how great the story and characters are. In an industry where people's memories tend to be extremely short, it's great to see what happens when reboots are handled with care and integrity.
William Zabka is extremely thankful to be a part of it all. The show has given his career a second wind and now he's becoming well known to a new generation. During an interview with Uproxx, Zabka said, "I think something about Karate Kid, it evolved with time somehow. It aged well, and the conversation about the themes of Karate Kid and the characters have just been passed down for generations. It's gone from the theater, to cable, to the Internet, streaming, and all that. And it's created enough energy and conversation that's about the characters and the themes of the show to provide an opportunity like Cobra Kai to come around."
Season 5
Season four of Cobra Kai is set to premiere in December of 2021, but the show has already been renewed for a fifth season. At the moment, there's no solid date for the debut of season five, but there's a good chance it'll happen some time in 2022. Cobra Kai is one of those shows that has the potential to run for a very long time, and fans are hoping that will definitely be the case.