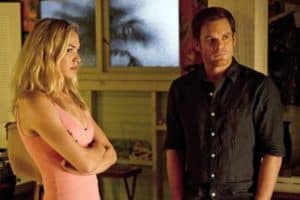 In the past few weeks, I've already come to the conclusion that Dexter's final season will not reach the extremely high expectations that I had for the series as it headed into its last year. On almost every level for the last couple of episodes, Dexter has disappointed me with its lack of focus and, even more so, its total absence of urgency. Thankfully, last night's episode, "Make Your Own Kind of Music," while still frustrating to watch at parks, finally established some type of dramatic endgame for Dexter; it may not have been what I had anticipated or wanted from the series after the consistent strength of season seven, but at least now the dramatic stakes of this final season of Dexter feel a little significant as we head into the show's final three episodes.
The bulk of last night's episode dealt directly with an issue that I thought Dexter had previously abandoned earlier in this final season, but it was an overall theme that I was glad that the series continued with: Dexter's capacity to feel real emotions for other individuals and how this ability can affect him as a killer. Dr. Vogel, who had previously only seen Dexter as a psychopath, finally admits that Dexter has "a depth of emotion" and that if he tries to juggle these two worlds, his emotional life with Hannah, Harrison, and Deb versus his cold and calculated killing lifestyle, he risks crumbling both of them, ultimately hurting himself, along with those that he claims to love.
While I would rather see the continued exploration of Dexter's emotional nature be examined through his tumultuous and almost co-dependent relationship with Deb (which is still the most interesting character dynamic that Dexter has ever produced) instead of it being shown through his romance with Hannah, I'm just happy that the Dexter writers haven't forgotten about how important they had made this issue of character earlier in the season. I feel like if there's going to be any sense of real closure for Dexter that this will be a problem that not only needs to be discussed in the series but ultimately should be solved by the show's end, whether the end result is happy or not for Dexter as a character.
Furthermore, Dexter's ability to care and empathize with individuals is counter-balanced in this episode by the revelation that the Brain Surgeon is actually Dr. Vogel's son, Daniel (also known as Oliver, the guy that Dexter's neighbor Cassie had been dating), who at a very young age killed his own brother and then was locked away in a mental institution. While Vogel herself calls her son an emotionless psyschopath, it's her own emotions, her deep and unwavering love for her son, that allow Daniel/Oliver to evade Dexter's table, as she hides him from Dexter at the end of the episode, somehow believing that she may be able to get through to him on her own. The complex nature of both Dexter and Daniel and their inevitable confrontation is definitely interesting territory for Dexter to explore. However, I just wished that this season's killer, being that it is the show's last year, had some past connection to Dexter in some way, thus making the Brain Surgeon feel unique rather than just another tacked-on "killer of the season."
With only three episodes left and the Brain Surgeon's identity now revealed, it's time for Dexter to really up the emotional stakes. The series' conclusion cannot and should not be as simple as Dexter taking Harrison and leaving with Hannah for Argentina. Hopefully, Dexter can take the storylines that it has laid out for itself and mine them for some compelling drama (including some big deaths) between now and its closing scene. Otherwise, I would rather knock myself with one of Dexter's injections and not have to watch one of my favorite series of all-time end on a total low-note.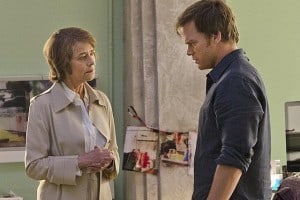 Other thoughts:
– Miami Metro Update: Quinn awkwardly kissed Deb (and obviously still has feelings for her–yawn), Angel became aware that Zach Hamilton is missing, and Masuka and his daughter, thankfully, barely got any screen time.
– Really enjoyed the humor and the awkward but sweet bonding between Hannah and Deb during their dinner scene together. The best thing that Hannah staying at Deb's house allows for is some really interesting scenes between two characters who have obviously never found common ground, and last night, Jennifer Carpenter and Yvonne Strahovski played very well off of each other.
– What's your theory for how things have to go wrong for Dexter? Is it that the Brain Surgeon kills Hannah or would that be too much like Trinity killing Rita? Part of me thinks that Deb could possibly die, but I'm not sure if the Dexter writers have the guts to go that far anymore.
What did everyone else think of last night's episode of Dexter?