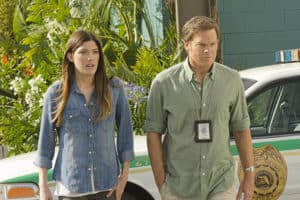 For the first time this season, Dexter let me down tonight. "Scar Tissue" wasn't a particularly bad episode by any means, but compared to the previous three stellar episodes that have started off this final season of Dexter, it felt very scattered and choppy. Storylines were introduced or characters interacted for short periods of time, but nothing ever really reached fulfillment. And when it came time to ending the episode, the Dexter writers thought that the big, "you could see it coming from a mile away" car crash scene would serve as a shocking conclusion.
Let's start with what was working in tonight's episode of Dexter. As always, Dexter and Deb's relationship was at the center of the show, as Deb underwent some unusual therapy sessions with Dr. Vogel, who tried to get Deb to stop repressing her murdering of LaGuerta and try to accept that she is a good person who was pushed into an impossible situation. One of the ways Vogel tried to impress this message upon Deb was through old videotapes of Harry (the same ones she showed Dexter a couple episodes earlier). While these initially reinforced Vogel's point, Deb soon saw how disgusted and stressed her father had become over Dexter and later discovered the truth about his death, as Dexter confessed to her that Harry had in fact committed suicide.
Deb's decision to drive her and Dexter off the road at the end of "Scar Tissue," only to dive back into the water to save her brother, will definitely have interesting ramifications moving forward. This action really changes up the dynamic between Dexter and Deb in yet another way, because now Deb will not be the only troubled one in the pair's relationship anymore. Put simply, Dexter is going to be pissed that his sister tried to kill him, and I cannot wait to see how his and Deb's struggling relationship continues to unfold next week.
Another solid element that Dexter has had going for it so far this season is the mystery behind Dr. Vogel. In tonight's episode, we see not only Deb but also Dexter question her methods, and we also discover that she's been keeping a journal on Dexter, writing down notes about their discussions and treating him as if he were simply another one of her patients. While I don't think Vogel is The Brain Surgeon, or connected to him in some way more than what she's saying, I do believe that she does have her own agenda, and I'm really curious to find out what that is. For example, is it possible that she's somehow working with Hannah, since we know that Yvonne Strahvoski will be making her return most likely in the middle of this season and that it's highly believed that Hannah wants revenge on Dexter? My mind continues to wander.
However, these interesting aspects of Dexter could not erase the less than enjoyable parts of this episode. While I praised Quinn's character last week, tonight he was back to his old self, stuck in that sergeant storyline with Batista that no one cares about and getting naked with Jamie, which is nice, I guess, but not something I'm really invested in at all.
Then we also had Dexter going after Yates, the newest suspect in his hunt for the Brain Surgeon, and Yates escaping, ensuring that he'll be in at least one more episode. I think it's pretty clear that it's too early in the season for Dexter to actually find the real killer, and if it really does turn out to be Yates, then shame on Dexter's casting department because I did not buy the actor playing Yates as a villain at all.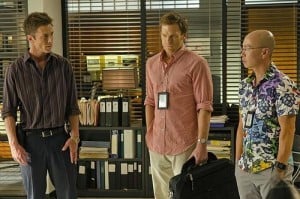 Finally, we have Masuka's random daughter storyline that I'm sure is going to eat up more screen time than it ever should in this final season. The fact that Dexter is actually attempting to give Masuka a somewhat serious storyline does absolutely nothing for me, except for the pleasing fact that I get to see Dora Madison Burge, who played Becky on Friday Night Lights, back on my TV again. I really hope that all this extra, unneeded fluff that the Dexter writers feel the need to place in every season soon fades into the background and doesn't take away from what makes this series so great: the always brilliant performances of Michael C. Hall and Jennifer Carpenter and the ever-evolving relationship between Dexter and Deb.
Other thoughts:
– Along with Dora Madison Burge, it was great to see another familiar face on Dexter tonight in the form of Bethany Joy Galeotti, also known as Haley from One Tree Hill. I don't know exactly what purpose her character will serve yet (if any), but I hope that she turns up again really soon.
– Deb's boss has to be somehow connected to the Brain Surgeon, right? He's too awesome of a guy, and we're spending way too much time with him for some twist like that not to be coming.
– Some awful Pepsi product placement tonight when Dexter initially sees Yates outside of his truck. It looked exactly like a traditional Pepsi ad and seemed completely out of place