As Dexter had its final season premiere tonight, I had a lot of different emotions running through me. I was happy that the show was finally back on my TV screen. I was sad over the fact that I will soon have to say goodbye to these characters (and let's be honest, by "these characters" I only mean Dexter and Deb). However, mostly I was impressed; with finally taking the plunge last season and having Deb find out Dexter's secret, Dexter became a better, more interesting, and more consistent show, and I definitely had my concerns about whether Dexter could maintain this quality from season seven into season eight. Thankfully, this first episode, "A Beautiful Day," illustrates that there is a lot more great material for Dexter to explore in this final eighth season.
The best part about this premiere episode lies in the best part of the show in general: the relationship between Dexter and Deb. It's been six months since Deb murdered LaGuerta in order to save her brother, and that tragic event has created an emotional distance that we have never seen before between the two siblings. While Dexter attempts to go through his days at Miami Metro like nothing ever happened, Deb has quit the force, now works as a private detective, and spends the majority of this episode doing drugs, drinking beer, and having sex with Billy Walsh from Entourage.
To put it simply, Deb's a mess, and her absence in Dexter's life is creating major issues, as he can barely keep control of his anger, lashing out by choking a fellow driver for cutting him off, yelling at Harrison for the tiniest of mistakes, and even erratically killing Briggs in Deb's hotel room without any regard for how he'd get away it. As Deb says at one point in this episode, she always thought the she needed Dexter, but it's actually the other way around. In order for Dexter to keep himself level-headed, he needs the love and advice of Deb, and while the fallout from LaGuerta's death may appear to be affecting Deb more than it's affecting Dexter, there is no denying that, due to the disconnect between him and Deb, Dexter is just as, if not more, screwed up than she is. Dexter has always been at its best when it focuses on the connection between brother and sister, and I really hope that this season continues to keep that focus on the relationship between Dexter and Deb, as we see if they can reconcile and possibly regain that loving bond that they once had before.
In addition to the issues going on between Dexter and Deb, Dexter also introduces another new problem for our favorite serial killer in the form of Dr. Evelyn Vogel (played by Charlotte Rampling), a psychiatrist that has a particular interest in sociopaths and serial killers and somehow knows about the code that Harry taught Dexter. No matter where this storyline leads, I don't see it ending very well for either Vogel or Dexter, but as long as I can enjoy more great scenes like the one between the two of them in the morgue, I'm anxious to see where this plot goes.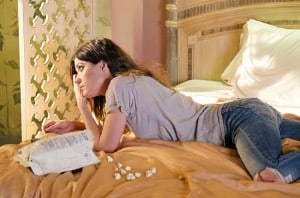 All in all, "A Beautiful Day" was a great start to what I hope is a phenomenal final season of Dexter. This show has had a lot of ups and downs throughout the years, but if the rest of this season can keep up with the quality of this premiere episode, then I'm sure that Dexter will end on a high note.
Other thoughts:
– Miami Metro update: Angel is lieutenant now, Quinn is sleeping with Angel's sister, Jamie, and Masuka is still Masuka.
– This new killer, who takes pieces of people's brains, should hopefully be an interesting storyline for this final season. Why does he take certain parts out? What is the purpose? Might he be trying to send a message to Dexter?
– Loved the scene when Dexter picks up Harrison outside the hotel and then looks down at his hands, which are covered in blood from killing Briggs. Anytime Harrison is around violence it is small callback to both Rita's death and Dexter's bloody origins as well.
– Deb's password is "fngpassword." That's perfect.
– Amazing work from Michael C. Hall and Jennifer Carpenter tonight. They both have always been great performers, but the two of them really stepped it up a notch during season seven and this first episode of season eight was no different.
What did you think of the Dexter season premiere? Did it meet your expectations?