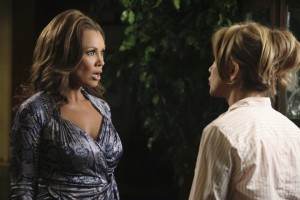 Well, the story lines are moving at a fast pace on Desperate Housewives and we are only on episode two!
Lynette & Renee
WOW! Did NOT see that coming!!! As I watched Lynette get paranoid around Renee's friendship with Tom, my initial thoughts were that Renee was going to be the much needed foot to be stepped down to Lynette about bullying Tom, but boy was I wrong!
So Renee and Tom had relations back in the day, but was it before or after Lynette and Tom tied the knot? Or rather did Tom know Renee before he met Lynette? For Tom to have actually cheated on Lynette a long time ago, opens up so many layers for his character, because now we (plus Lynette) will have to wonder about every other time Tom has took a business trip and if his dad's infidelity problems was a hand-me-down trait. I hope that won't be the case. They are the only couple who has had a stable marriage. Don't want that winning streak to be ruined now.
As far as character development, glad for Lynette to understand that the burden isn't necessarily all on her. While Tom is to "blame" for their current predicament, he's also suffering from the stress to be middle-aged parents and trying to maintain a household through being the sole breadwinner of the brood. Thankfully, Lynette listened to Renee and equally Tom didn't let sex solve his problems this go round. Maturity at its best folks.
Gaby
Man, I was really hoping that the baby switch thing would've went on a bit longer without Gaby knowing. Now that it's out, I welcome wondering how the Solises will handle this tragedy. Hopefully it won't be through comedic schtick like it was tonight. I know this show is a dramedy, but finding out your child was switched at birth is not a funny matter. I mean Gaby has her way of getting information out of people, which tends to be hilarious, but I was expecting her to hassle more hospital staff or something, not think that she cheated on Carlos a long time ago. But I will say one thing: that scene in the hospital room as Carlos told her the truth was excruciatingly heartbreaking, even though we couldn't hear a word that was said.
Bree
God Bless Mrs. McClusky for her sound advice and just existing. Without her, I don't know how any of the women of Wisteria Lane will be able to go on without her. When she spoke the Truth to Bree tonight, I beamed as if she was talking to me personally. The woman is a serious asset to those on Wisteria Lane and thank God they finally added her as a series regular. She deserves it.
Now for Bree. Keith could be the breath of fresh air that she needs, because Rex really didn't cherish her, George was a psychopath, Orson was just… Orson, and Karl is pretty much dead. So, I'm on the bandwagon for Bree to hook up with Keith, but damn it's going to be hard to choose sides when Renee steps into the picture…
Susan
What can I say? Can we please get her back to the Lane, STAT?!
On a lighter note though, I was really glad to see Mike finally swallowing his pride and thanking Susan for her help and contributions she's given him to support the family. Flowers are a huge improvement over lying and unnecessary temper tantrums.
What is the new girl's deal?
When Beth practically tripped upon Wisteria Lane, my heart went out to her, because she looked as if she had stepped out of 1960s New York into the present looking for Duck Phillips. Oh wait…
Anyway, my whole thing is why in God's name would Beth run to Paul if she didn't intend on doing anything with him? It's like a kid running into horrible monster's house when he knows that the monster could possibly eat kids. Could she be the person Felicia has on Wisteria Lane to spy on Paul? Only time will tell…
Your thoughts?