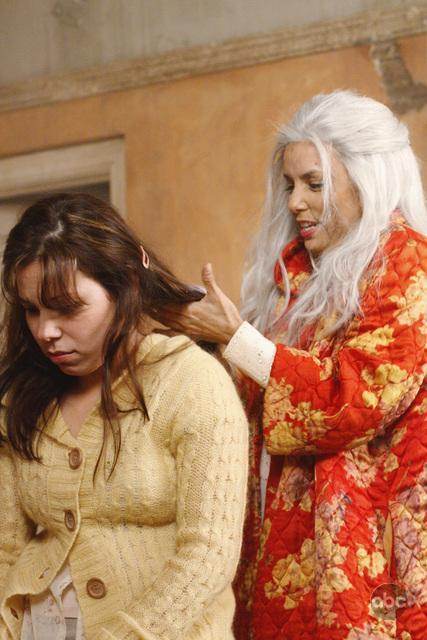 Welcome to the New Year, fellow Wisteria Laners!!! Let's recap what happened on Desperate Housewives before we went on Christmas Break and all hell broke loose.
– Angie was being blackmailed by Mona, who got clipped by the plane that crashed on Wisteria Lane…
– Bree and Karl's relationship was ousted to Orson and they were hurt in the crash as well.
– Katherine was sent to the loony bin. (Thank God!)
– Lynette and Gaby were fighting over the fact that Lynette is suing Carlos for wrongful termination at work. Lynette saves Celia from the plane crash.
Ready? OK! Let's go!
The Set Up
The aftermath of the plane crash is the talk of Fairview, but the one question that hasn't been answered is who survived and what was left of them…
At the hospital, most of the usual suspects are in the waiting room when Susan enters and she (as well as the audience) is immediately filled in. Karl, Orson, and Mona (really?!?!) are all in surgery, Celia suffered a minor bump, and Bree is OK. Carlos tells Lynette that he owes her the world (as well as other things in my book) and I guess the hatchet is buried between them… for now. So when every one sits down and prays for a positive outcome, Lynette starts to feel pain in her stomach and immediately fears for the life of the unborn twins…
Damn…
Susan's FlashForward
Susan begins to worry about what could've happened if she had of stayed with Karl instead of kicking him to the curb. We learn that not only would she have still had to deal with Karl's infidelity, but she would have gained a nice chunk of weight by doing just that: dealing. So who happens to come knocking on her door one day? Mike Delfino, who is only there to fix her pipes, but not in the way she would like. After Karl calls saying that he will be coming home late (again), Susan takes matters into her own hands and attempts to seduce Mike, who bolts with the quickness, but not before telling Susan that if she is unhappy then she needs to d something about it. Flash forward some time later, Susan finds out that Karl is finally leaving her after Susan has lost some weight. Karl only says that he tried, but he couldn't keep up the lie. He tells Susan that she does deserve someone better, though. This is when Susan looks up to Mike's house and see that he is already taken and has a kid on the way.
Back in reality, the doctor walks in the waiting room and announces that Karl didn't make it. Mrs. McClusky, who felt bad for Karl despite his transgressions, is upset and thinks Susan will be as well. But Susan only tells Mrs. McClusky that she is only feeling grateful… Hmm….
Bree's Flash Forward
Bree is sedated after finding out that Karl died and she falls into her flash forward of what could've been if Karl had of survived. At first, she and Karl is happy and Orson is nowhere in sight, but then this Karl we are talking about her. He ends up in bed with Bree's yoga instructor and Bree is soooo not amused. She gets rid of Karl, but she gets a call from Orson's caretaker. His caretaker??!?!
Bree finds out that since the caretaker started taking care of Orson, he has had no visitors and always talked of Bree. We see this as Orson has pictures of Bree as well as Andrew and Danielle all over the place. To make matters worse? Orson died of a heart attack, but as the caretaker put it, it might as well been from a broken heart.
When she comes to in reality, the doctor reveals that Orson made it through surgery, but there is the possibility that he can be paralyzed from the waist down… Damn…
Angie's Flash Forward
Angie and 'Nic are in the waiting room trying to get the results of Mona's surgery, but after the nurse says that Mona could pull out of the surgery (if she does then she is clearly not human) Angie starts to flash forward to a life of being caught by the Feds.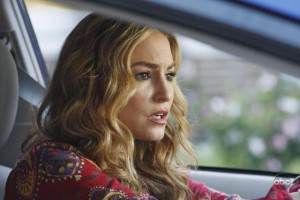 First she is interrogated by an officer who asks her for the whereabouts of her lover Patrick Logan, who seems to have been Angie's lover and the person who was the mastermind of everything. Angie says she doesn't know his whereabouts and never contacted him in the 18 years she was on the run and it seems that she was more on the run from Logan than the Feds. Also we find out that Nic is considered a traitor by the FBI, which makes him a Fed that went rouge. So this leads to Angie's trial where Angie gives a heartfelt speech to the family that her crime affected, namely killing the husband and father of said family. Angie professes that her stay on Wisteria Lane made her feel like she was a part of a community, which gave her insight on the pain she caused the family she 'hurt'. After this speech, Angie is sentenced to life in prison without parole while "Danny"/Tyler looks on crying "Mom!" as Angie is led away.
In reality, the nurse announces somberly to Angie that Mona is no longer a part of this world and that Angie shouldn't be mad about God not answering her prayers. Do I really need to tell you Angie's reaction to that? HA! But seriously, Angie only says that she and God are "good". Subtlety at its best!
Gaby's Flash Forward
Gaby is worried about Celia, who Carlos has just announces needs to stay overnight for tests. Gaby tells Carlos that Lynette was God's weapon in protecting Celia and that Celia is meant to do something big in the world and is a gift. Carlos leaves Gaby to ponder of what a future might be for them.
After putting Celia through a triathlon of various "talents", Gaby decides that Celia is going to be a great actress one day. The problem is that Celia SUCKS at it, but Gaby is adamant that Celia was sparred by God for something and pushes Celia to the brink of insanity. As Celia grows up, Carlos sees that Gaby is slowly going Mommy Dearest and tries to save his daughter from a disastrous childhood that could bring epic psychiatric sessions in her future… Carlos plots to send Celia to a summer camp for some normalcy, but Gaby isn't having that and says that Celia stays so she can go to her auditions. Carlos says Celia can't act and that it's pointless to send her and that Gaby's domineering attitude is tearing the family apart. Gaby keeps her foot down Carlos declares that he is leaving. Which he does.
Flash Forward to a gray and old Gaby watching Celia do her first commercial when she was five as an adult and dowdy Celia comes back from grocery shopping…with FOOD STAMPS mind you! We see that the house is in shambles and it looks like Grey Gardens 2: Wisteria Lane Edition. The phone rings and it's Celia's agent, who has a role for her if she can pass for 15. Gaby is ecstatic, but Celia has had enough and tells Gaby that she doesn't want to be an actress. Gaby shrugs off the claim and brings up the tired mantra of Celia was sparred by God to do something special, a mantra that Celia is sick of. Celia asks why does it matter and Gaby says that it is all that she has left since Carlos has left and Juanita doesn't even care to keep in touch anymore. Celia reluctantly asks when is the audition.
Flash back to reality, Gaby come to the conclusion that Celia is a gift in herself and doesn't need to be anything to prove that point. Awww…
Lynette's Flash Forward
One of, if not THE best, flash forwards of the night belongs to Lynette and I am sure it will be pretty debatable at the water cooler in the morning.
Lynette gets checked on and finds out that one of the twins is indeed in trouble to point that immediate surgery is needed to prevent mental or physical damage. This sets up Lynette's flash forward of 'what if'. She at firsts dreams of a normal baby, butthen she thinks about what if the child turns out to be disabled in some way. This is what we see…
Lynette has to do muscle exercises with the 14 month old Patrick, who is crying in pain and it's driving Lynette insane. She tells their nurse and Tom that she can't do it and can't stand to hear him scream like that. She also asks the nurse if anything that they are doing, the injections and exercising, is helping any. The nurse says she doesn't know and tells Lynette that she needs to stop worry about what Patrick could be doing at his age and worry about his progress. Lynette then leaves the room. Tom follows and they have a heated debate about what's to come, because Lynette is scared and feels that she can't face the future and that Patrick might not even have one. Tom demands that Lynette toughen up and grow a pair, because none of them, including baby Patrick, want to deal with what's to come. He then tells Lynette that she will be sorry later if she doesn't face the music now.
Fast forward about twelve years later and we meet a adolescent Patrick who asks an overwhelmed Lynette if she can fix him a sandwich. Lynette tells him she will do it when she finishes washing dishes, but he wants it now. Lynette decides that Patrick should make his own sandwich, but he doesn't want to and wants Lynette to do it. Patrick then declares that his friend's mom makes him food with no complaints and Lynette counters that his friend is in a wheelchair and can't reach the shelves like Patrick can. The debate gets ugly as Patrick accuses Lynette of not wanting to help him. Lynette yells that she wants Patrick to understand that one day she won't be there to help him and wants him to learn how to do stuff himself, because it is imperative to his survival. She then says for the final time that she will not make him a sandwich. This gives Patrick the incentive to make the sandwich himself. Albeit being very difficult, he does manage to do it, which makes both mother and son beam with pride. Tear…
Flash forward ten plus years and we see Patrick graduating from Waldorf University Law School as he gives a speech of how Lynette meant so much to him in making him the strong willed person he is today. He then promises to do the same for Lynette, who can't be more proud of her son than she ever has been of anything in her life.
We then return to reality with Lynette awaking post operation, asking Tom how is the baby. Tom announces that they lost the baby, but that the other one is fine. Oh man… Speechless…
The Conclusion
Gaby comes into Lynette's room bearing flowers and the one look in their eyes says what I wanted for Christmas for the two of them: a truce. They grab each other's hand and Gaby tearfully says to Lynette that she doesn't know how to say thank you for saving Celia, when Lynette lost her baby. Lynette responds that she and Tom would have named the baby Patrick and that he would have been amazing… Tear, sniff, tear…
We are then taken to the funeral of Karl Meyer as Mary Alice tells us that despite wondering what if, the best way to honor someone who died, think about what was and to keep living the best they could.
So, so sad… Yet, so true.
Oh, and Katherine was nowhere to be seen, because she doesn't know if she is coming or going, so how could she have possibly had a coherent flash forward?
A Few Thoughts
So it took Lynette sacrificing the life of her own child and saving the life of Gaby's to mend their relationship. I don't know about you, but if that's not a friend for you then I don't know what is…
Karl was just going to be Karl it seems, no matter how anyone could cut it, but best believed he will be missed as much as we miss Edie.
Orson in a wheelchair? Wonder how Bree can manage?
And the "Bolens" aka the De Lucas. Angie must have done something pretty terrible for her to get life without parole. Did she kill someone or was it an accident? Who the hell is Patrick Logan and is he "Danny's" /Tyler's father? Where does 'Nic fit in the whole puzzle by him being a rouge Fed? Color me intrigued…
Till next week, fam!