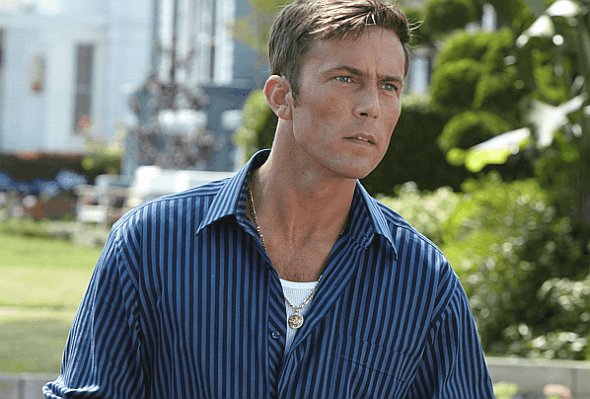 Desmond Harrington is one of the many actors you might recognize but can't immediately place since you've seen him but you need to think of just where and when. The easy part is figuring out just what he's been in and whether you've watched it or not. He's shown up in an amazing number of films and TV shows and has forged a career that might not have been if not for the advice of a colleague. Sometimes that's all it takes it seems is someone that cares enough to mention to another person that they might be able to find something that they weren't even looking for by trying something different. Harrington might still be working odd jobs here and there if someone hadn't told him to go try acting and see what came of it. The roads we take and the ones we use to get to such pathways are sometimes difficult to see but they do yield results.
Here are a few things you might not know about him.
10. He had a few jobs before he became an actor.
A few such jobs were as a laborer, a cold caller at a brokerage firm, and a bartender. None of them are hopeless jobs but they don't really add up to what acting can for some folks. Thankfully someone that cared enough about him spoke up and told him about an audition that he might want to look into. The rest is history.
9. The Messenger: The Story of Joan of Arc was his movie debut.
The story of Joan of Arc has been told in a few different ways with different biases being used and different storytelling elements coming into play. With Desmond however it's hard to tell if he's still getting used to the act or if his character is truly that shy and reserved. He did play a good part and yet at the same time he kind of faded into the background after a while.
8. He's been nominated for several awards.
Someone has believed he's doing a good job obviously since being nominated for any award isn't a small thing in the business and getting that kind of consideration means that he's been impressive enough on screen to make people think that he has a bright future.
7. He was in Ghost Ship.
This movie didn't get a lot of great reviews but it was an interesting film since Desmond plays a character who, initially, people might think is kind of lame and even gets in the way too often, but eventually turns out to be the one that orchestrated the entire mess that the crew finds themselves in.
5. He was in Wrong Turn.
There's something about going off in the woods when you're not entirely comfortable with them, or when you explore an area that's somehow ominous and doesn't give off that good, peaceful vibe that the wilderness is meant to do in some cases. In this case however Desmond and the rest of the cast come across a trio of seriously deranged and disfigured hillbillies that use the woods as their hunting grounds. The only problem is what they choose to hunt.
4. His career started in 1999.
He's been around long enough now to know the business and to have seen a few things as he's gone from show to movie to show and back and forth. He's definitely still the kind of guy you have to look up to get any information on but he's a real talent without question.
3. He was in Dexter.
At some point and time it almost seems as though every actor to come on Dexter was bound to be a potential ally or victim just considering how their character was developed and what they meant to the lead character.
2. He didn't finish college.
He went to work instead and from there he eventually went into acting. Of course technically his bio says he didn't make it to graduation, but that could mean he didn't finish or simply didn't attend his own graduation. It's usually the former that people pay attention to though.
1. His weight loss sparked a bit of controversy.
Between a couple of roles it was noticed that Desmond lost a bit of weight and had developed a more chiseled figure. The rumor mills started up immediately, wondering if he had a disease, if he was on drugs, if he was this, or that, or somehow dying. It's a bit hard to fathom just how people come up with their theories as to what's happening in a celebrity's life, but Desmond put the rumors to bed when he stated that he'd started eating healthier and exercising on a regular basis. Seriously, those that start the gossip need to slow down just a bit and relax.
He's a talented actor, but he does manage to fade into the background just a bit.