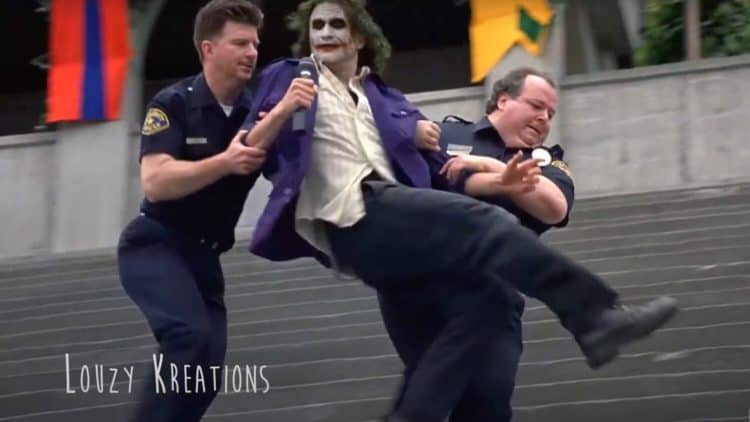 Some people still worry about Deepfake a bit since the whole AI concern is that people will start being digitally enhanced, replaced, removed, etc., but there are times when it's still a lot of fun since it can be used for pure entertainment. This clip by Louzy Kreations is a good example since taking the scene from 10 Things I Hate About You when Heath Ledger is singing to Julia Stiles is pretty funny. Imagining Joker doing anything like this for Harley Quinn is way out of character of course with everything we've seen in the comics and the movies, but it's also a fun recreation of a scene that a lot of people still think is one of the best from a high school movie. Plus, there have been so many interpretations of the Joker and Harley Quinn relationship that it's not hard to see how another one could be seen as interesting, especially since it's taking a person that actually played the part of the Joker as his final role. It's fair to say that seeing Julia Stiles as Harley Quinn wouldn't have been that great of an idea simply because at some point her career kind of took a nosedive, which is surprising since at one time she was actually very popular and had a lot of fans that would have loved to see her keep going. This movie was actually quite funny and touching since like so many other high school movies it had a decent amount of comedy, drama, and romance that a lot of people tend to enjoy.
It was interesting as well to see the faces of other villains superimposed on several students and the attempt to make others into villains by changing their skin color was interesting. If I'm not mistaken, we had the chance to see Poison Ivy, Two-Face, Penguin, Bane, Scarecrow, and Mr. Freeze in there as well, and if there were others then I might have missed them, but it's always possible that there were others. Heath Ledger really took over the scene with his antics, as it should have been since he was the most active individual in the scene. Seeing the face of the Joker on him again brings chills all over since Ledger was without a doubt one of, if not the greatest Jokers of all time, and rests comfortably on many favorite lists of the current era. It's beyond sad that he never had the chance to enjoy the fame this brought him, but the feeling is that the role took a great deal from him and whatever else was going on in his life at that time was simply too much. The manner in which he played the character though was amazing since not even Jack Nicholson took the character as far as Ledger did, though many would stick with the idea that he was a little TOO psychotic.
Everyone gets to have their opinion since some folks still think that Jared Leto did a solid job of being the Joker, while some would say that Leto looked more like a painted thug than the clown prince of crime. But hey, opinions vary all the time and people are welcome to them. In the case of Heath Ledger though, it feels as though his Joker could have gone on to another movie and perhaps been one of the more prominent villains in the DC universe had he lived long enough. As it is he gave us a performance that has already been cemented in cinematic history as one of the best versions ever of an iconic villain that, despite not having powers or anything other than his insanity to go off of, has been one of the deadliest and most unpredictable forces in the DC universe. Plus, Ledge proved himself as a great actor more than once over the course of his career, no matter that some of his movies were definitely aimed at a younger generation and he didn't always cater to the older viewers. He still did what he could to make every role count and put everything into it. From 10 Things I Hate About You to The Patriot to A Knight's Tale to The Lords of Dogtown and yes, of course, to The Dark Knight, he was one of the best in the business and was someone that a lot of people could see climbing the ladder to greatness in his own way. Some people simply pass on too soon for a number of reasons, and his absence has definitely been felt over the years.
But this was a nice reminder of how great of an actor he was, and how much fun can still be had with Deepfake no matter how much people might worry about it. Sometimes having fun is the point.