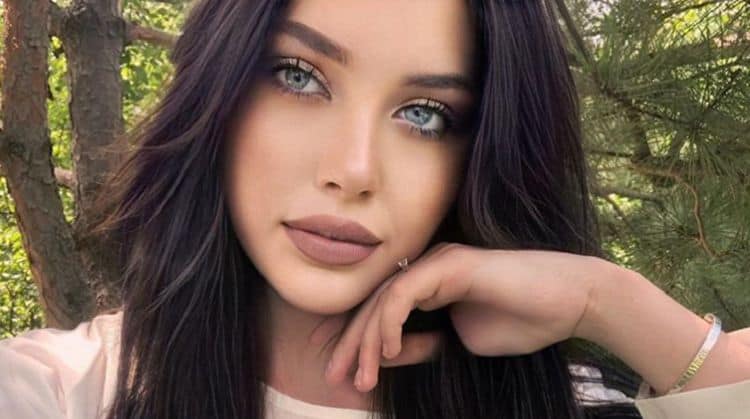 Deavan Clegg, previously a furniture sales person, was ushered into the lime light through the popular TLC American reality TV series the "90 Day Fiancé". Hosted by Shaun Robinson. The drama episode revolves around love interest stories between foreign couples who acquire visas solely for the chance to meet and possibly marry within 90 days; or else return home to their respective countries. According to The TV Shows Ace, Deavan's cast into the show was approved only 6 hours after she sent in an application. She admits that her sign in was prompted by a colleague who dared her to try out. Following the standard confirmation protocol her and her partner Jihon Lee made the cut as the sixth couple into the show. Here are 10 things you sprobably didn't know about the TV personality;
1. Came from an Abusive Relationship
Before tying the knot with her Asian lover, Deavan struggled to break from the shackles of abuse inflicted by her ex boyfriend. Her loyal fan base spark up curiosity after questioning the where about of Drascilla's (her daughter) paternal figure. His loud absence in the show's episodes led to a social media frenzy. Out to silence the rumors Deavan opened up about her toxic relationship with her daughter's father echoing that she has acquired full parental custody over her daughter. Recorded from one of her You Tube videos is an "uncut" version spilling juicy details of her violent love history.
2. Suffered a Miscarriage
Devan's anticipated baby reveal went south after learning she had lost the pregnancy. She was already 21 weeks at the start of filming. The mother shares a son with Jihon Lee, Taeyang Suti Lee and was well on her way onto a third baby. The devastating news rocked her relationship so much that she took to social media pleading her followers to avail her healing space. With support from her family she appears to have come out strong.
3. New-found-love Cultural Differences Struggle
Her relationship with Lee caused quite the stir with Lee's family members. The two originate from distinct ethnic groups and admit their love journey has been a tough one. An interview source from the Soap Dirt reveals that Lee's mom is unhappy with their union and wishes he married A Korean girl.
4. Relationship on the Rocks?
Teaser clips preceding the show's premiere suggests mistrust issues may have crept up between the adorable couple inciting speculations of a break up. In a talk with Shaun, Deavan reveals that she was shocked to discover Lee's financial unpreparedness days before settling in with him South Korea. Plainly disappointed. the TV personality considers his action a breach of trust that may take time to get over. The two however maintain a united front before the screens.
5. Active Modeling Career
Aside from being a TV star Clegg is testing different waters in the entertainment business. Her Instagram account is full of tasteful clips and videos of modeling posts. Considering her stunning facial features and petite body frame this comes as no surprise. On the flip side Lee confesses to be jealous of his wife's new found job in the foreign state. His sentiments arise from Clegg's camera intimacy with fellow male models and very close proximity. Clegg seems not to have a problem but admits she had to look for a way to bring home the bacon after Lee's failed to step up.
6. Haunted by a Family Member
During her pregnancy journey Clegg feared for her life and that of her baby. According to Cheatsheet she dished that a troubling relative had previously attempted to kidnap and steal her car but did not succeed. The referred persona had been in and out of jail a couple of times posing as a dire threat. Clegg failed to reveal a name but confirms it's a "she". Out of fear she finally resolved to move away from the States to South Korea to be with Lee.
7. Underwent a Botched Surgery
In an attempt to look and feel confident again Deavan did a lip surgery in her husband's country. The cosmetic procedure backfired leaving her with damaged lips. The star took to Instagram venting that her doctor injected her with foul chemicals that had not been tested causing an unusual swelling in her mouth. She said her lips were dying. She encouraged other women to double check their surgeon's credentials before going under the knife. Not discouraged by her first results, she went ahead to get a dental transplant in mid December 2019 that turned out great! Thankful to her physician Deavan now flashes a picture perfect smile.
8. Her Favorite 90 Day Fiancé Couple
From the many TLC pairs, Deavan developed a liking towards David Toborowsky and Annie Suwan. The New York couple generously offered her relationship advice thus earning a soft place in her heart. She has and continues to bond with the two over love and life matters. The star refers to them as her "best people".
9. Deavan supports Polygamy
Surprisingly, the actress has no opposition as regards to polygamous marriages which comes as a shocker considering her marriage into a monogamous kin. Traditional Korean wedding beliefs do not allow for more than one wife. She enjoys watching the Sister Wives program which purportedly advocates for 2 to more companions. However, while not bothered by the idea, she confesses that she would never do it because she is a jealous lover.
10. A Big Tattoo Fan
The model loves to show off pictures of her large dark rose tattoo. Mentioned in her You tube highlights into the abusive relationship, Clegg reveals she and her tattoo artist are close friends who go way back. Drawing from their rapport she enjoys visiting his store and is intrigued to watch the body marking craft.
Conclusion
The celebrity's love life still remains a puzzle to fans who eagerly anticipate seeing how things will play out between the Asian couple. To catch more of Deavan and Lee be sure to check out all new episodes of the 90 Day Fiance: The Other Way edition premiering on June 1st on the TLC network channel.