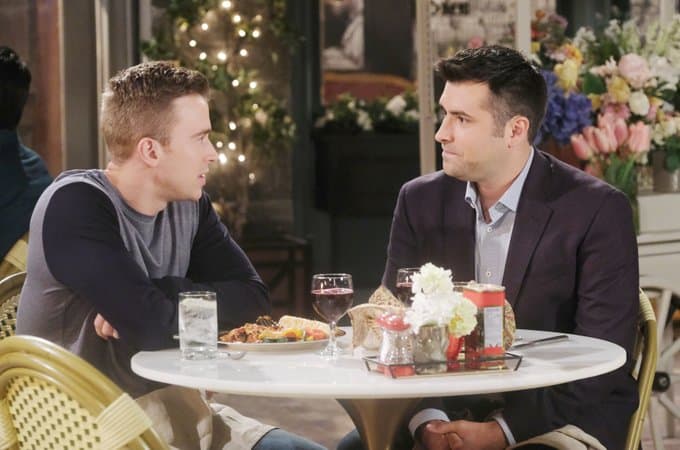 Days of Our Lives fans know everything is a mess right now as the new week begins. You cannot deny this, either, and we know that it's going to continue. Hope has so much anxiety and upset in her life due to her time as Gina. She didn't do this on purpose and she's not responsible for anything that happened when Gina was in her body. She knows this, but she is having a difficult time accepting this. No one is blaming Hope for anything that happened when Gina was here, but Hope is a woman who has a deep feeling of guilt she's struggling to get rid of. We don't see this being an easy process for her, which makes us happy that her son is set to return sometime in the near future. We only hope that he's able to help her upon his return, because she needs it more than anything else.
Steve is awake, and at first there was an issue. He didn't know who he was or who Kayla was, but now he remembers. His love for her is not something he can just forget, and he certainly did not forget it. This means that he's got to find a way to win her back at the same time that Justin is trying to decide what to do. We know Jack told him that he has to fight for her. He has to keep her in his life beause he does love her so much, and he should not give up his fight to keep Kayla in his life. This might be a battle for her heart, and it might not be one that makes any of us feel comfortable since we do like Justin, but we all know that Kayla belongs with Steve every day.
What's Happening on Days of Our Lives
https://twitter.com/angelayoho1/status/1250068743532752896?ref_src=twsrc%5Etfw
Can we get a standing ovation for this one?
What's Next on Days of Our Lives
Steve has gotten his memory back, and he's ready to fight for Kayla, but will Kayla choose to be with him or stay with Justin? Watch #DAYS, weekdays on @NBC. pic.twitter.com/uMilAKmVqB

— Days of our Lives (@nbcdays) April 10, 2020
This is going to be a week that starts with a bang as Zoey decided she's going to sue for custody of David. This is not something that Rafe saw coming, and he's not happy about it. This is a baby that needs to be with someone he knows and trusts right now, and he knows Rafe quite well. He also loves his uncle and knows his uncle, too, and Ben might be a better choice than this situation. But, how will he do this and get through this and make it all right? We have no idea, but we do know that that this is going to be a much bigger issue in some way than it is right now. This will not end well, and Rafe has a fight in front of him, if we had to guess.
On the other side of things is Steve. He has to make a decision about Kayla. He loves her, and he wants to be with her, but she's made it clear to him that she is now with Justin. Steve has a decision to make. He likes Justin. He loves Kayla, and he doesn't want to hurt her or his friend, or cause any issues for anyone. But, will he lose out because he wants to be a gentleman who leaves things alone and lets them be happy, or will he YOLO and fight to get the love of his life back in his life? We don't know so much how this will work, but we know it will be rough.
Stay tuned for more Days of Our Lives and be sure to check out TVOvermind daily for the latest Days of Our Lives spoilers, news, and updates.