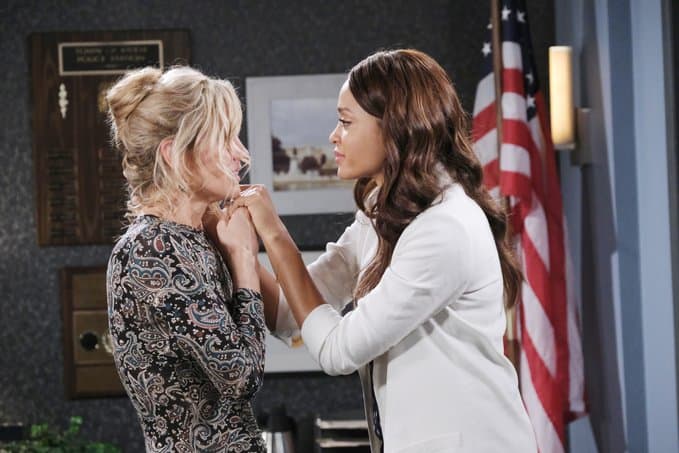 Days of Our Lives fans aren't sure that Eric is really up for the surprise that is going on with everything Nicole has planned for him. She's trying so hard to do things that work for him, but she's not sure what to do. She's got the right idea, but we know that he is suffering from a huge loss right now. He's got so much going on in his world that is not okay. He just lost the baby he didn't even know he was having, and he didn't know that he was the father of until just a few months ago, and now everything is a mess. She's trying, but it's not going to work. Meanwhile, Sarah is working on some very extreme measures to keep this baby to herself and not give her back to her birth parents, and she's a hot mess because of it. Eli and Lani are at odds, again.
And this has everything to do with what Kristin told her. They both arrested Brady because he had the knife that was used to stab Victor, but Kristin was very honest with Lani about the fact that he lied and she did it. Xander had to do some hard things. He had to tell Maggie a lot of crushing news, and he's not sure she's in a state that is not too fragile. She's in prison. Her husband could die from being stabbed. Her beloved Mickey and Sarah are having the worst time ever, and she's not there to help anyone through any of it. Also, we know that Eli is suspicious of Lani, and this will not stop. She is hiding something from him, and he knows it. She is hiding it from him because she doesn't want to betray Kristin.
What's Happening on Days of Our Lives
Thirsty?#TheDrinksAreOnUs #DOOLapp #days #dool @nbcdays https://t.co/gulsnodQG4

— Eric Martsolf (@ericmartsolf) April 30, 2020
Cannot get over this!
What's Next on Days of Our Lives
Sarah takes extreme measures with Rex, and Kayla is angry to discover Hope has moved in with Steve. Watch an all-new #DAYS, weekdays on @NBC. pic.twitter.com/oIWVgXhYaR

— Days of our Lives (@nbcdays) May 1, 2020
Zoey is a hot mess. She's doing all she can to make sure that Sonny cannot do anything he wants to do as he continues to try and live his life. He has to testify at the trial that belongs to Evan, and she's trying to bully him into not doing it and not doing what he needs to do — which is to be honest. Maggie, as we thought she would not, did not take the news that Xander brought to her well. In fact, she reached out and she slapped him. He was stunned, but he did deserve it. So much of this is his own fault. It was his idea to switch the babies around and to lie to those he claims to love, and to involve Victor in the situation with him. He did this out of the goodness of his own heart, but it didn't work for anyone.
Sarah has decided it's in her best interest to open up to Rex about all that happened, including her horror in what happened to her real daughter and how Maggie was part of that. She is still crushed and truly not herself, but it doesn't matter to anyone. Lani is doing all she can to help Kristin find Sarah so that they can get her baby back and make sure she's able to live her life. These two spent some serious time together over the past year, and we are sure that it's a thing that she didn't know she would end up doing. She is working hard to do all she can, but that's all there is to it.
Stay tuned for more Days of Our Lives and be sure to check out TVOvermind daily for the latest Days of Our Lives spoilers, news, and updates.