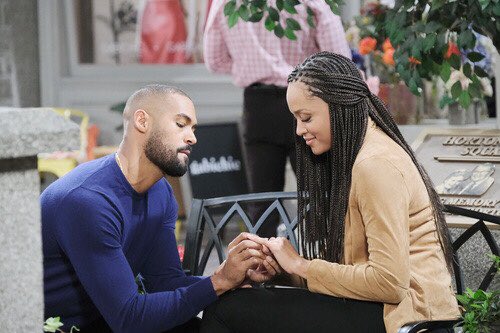 Days of Our Lives fans are excited that they get to see things happening into the summer. Soap fans of other series don't have the same options. Days is the only soap that is still showing new episodes in the wake up the pandemic shutdown that put the country on lockdown since March. With new episodes no longer available on any other soap, these fans are the only ones getting anything new — and they are not taking anything for granted. This means that we can take a look at the summer, give you a few soap spoilers, and really see how things might turn out in the coming months. We love to seasonally update fans so they know what to expect throughout the upcoming season, and this is the only show we can do that with. So, what can Salemites expect for the summer? We have a few pieces of information you might find a little bit more than intriguing.
There Will Not Be Four Weddings
There were four engagements in as many weeks, and fans are all kinds of excited about what we are now calling wedding season. But, the problem is that we all know there is not a chance in the world that all four of these couples will actually get married this summer. In fact, we'd say it's probably a stretch to see even two of them get married this summer. If we had to put our money on the couple we think might actually make it down the aisle, it is absolutely Ciara and Ben. We don't see Nicole and Eric making it happen. We think there might be a chance Eli and Lani can do it. Justin and Kayla, though? No. She can't do it. She cannot be married to another man when Steve is right there waiting on her to love him back and continue being his wife. They are soul mates.
Jake, the Man of the Hour
He might not seem like he's all that special right now, but we have a feeling that he is about to become the man of the hour. He's going to spend the summer with everyone and their mother — almost literally — fighting over him right now. He might find that Gabi and Gwen both want him. Gwen, because that is her ex and she is going to decide she wants him back and wants to be with him again. Gabi, well we know why she wants Jake. He is a dead ringer for her late husband, Stefan, and she doesn't care who he is as a person because she has somehow convinced herself that there is not a chance in the world that he is really Jake when he looks just like Stefan. So, that's going to be a thing we see this summer. May the odds be in the favor of the least crazy option.
Eve Returns
If there is one thing that brings us a little joy and a lot of excitement, it's the return of the most fabulous evil villain of late. Eve will be back in town, and we can imagine she's not happy with everyone. After all, the last time we saw her was when she was trying to convince her husband, Jack, that he wasn't who he was and that he shouldn't leave her and go back to his family now that his memories are back. But, that's a situation that is going to work itself out in the long run. She's back, and we hear she's coming back at the same time as Phillip, which may mean something bit is happening.
We know that Phillip wants his family business back to himself, so maybe he has enlisted the help of Eve to make that possible. More likely, she's found him, convinced him this is the time for him to act, and she's pulling his little puppet strings in the mix. She's that kind of gal, and we just don't put that past her in the very least. It's going to be good, but we have to assume she's in control and that she has a plan. Her plans are usually pretty good, too, so this could become a bigger problem for his family.