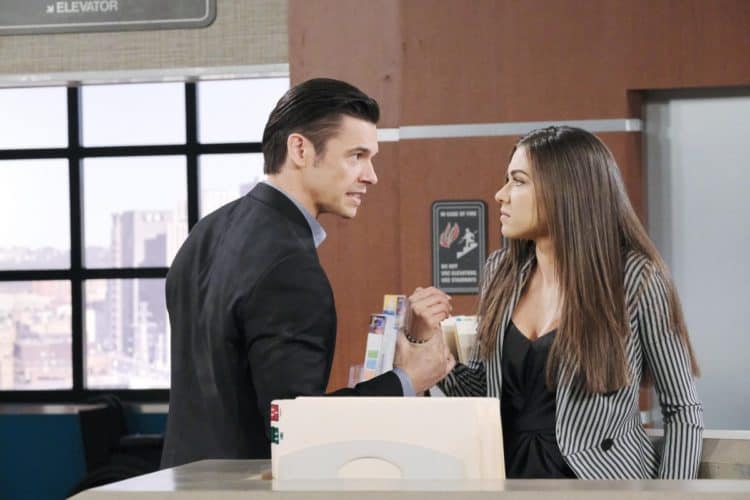 Days of Our Lives fans are not shocked by Kristin's shock. When someone showed up at her door who she was not expecting, she didn't know what to think or what to do, but we are not surprised. No one likes it when she's in Salem, and we didn't think it would take too long before someone came around here and decided to take things in to their own hands and handle her like she was meant to be handled. She's not a fan favorite, though we think she could be if she allowed herself to calm down and be a bit more normal. She's not, though. She's got her sights set on Brady, who is going out of his way to take on the lies that Nicole is sharing thinking that it will keep her away from him. He's so wrong if he thinks that he can do a thing that will deter this young woman.
Jack is not happy with Steve. His brother is not making wise choices, things are not turning out the way that he thought they should, and things are not what they seem. He's going to get his brother to himself and give him what can only be described as a very strong lecture, which is not something we think that anyone can handle. But, we all know this is definitely not Steve, so there is that. Xander is not a happy man, and he's got some words for Ciara. He is blaming her for the poor health of Victor, thinking that it was her betrayal who sent him over the edge and into the hospital. He's telling her that she needs to stay away from him all the time, for the rest of her life, and not go near him ever again. He's not joking, either.
What's Happening on Days of Our Lives
In the latest #DAYS, Hope fires Rafe but he won't go down quietly.https://t.co/ZsCmioRrzb pic.twitter.com/FHKwwcu1ru

— Days of our Lives (@nbcdays) January 7, 2020
Maybe not quietly, but it will be good.
What's Next on Days of Our Lives
Lives hang in the balance as Victor collapses and Ben waits to hear if he'll be given the death penalty. Watch #DAYS, weekdays on @NBC. pic.twitter.com/JSPgjfrgSg

— Days of our Lives (@nbcdays) January 4, 2020
We are going to see that Justin has some words for Victor. He wants him to do the right thing and make sure Ben's life is not entirely ruined. He needs to find out if he will face the death penalty regarding what went down, and Victor has a decision to make even though his health is not in the best place right now. This meeting with Justin might just change his mind, but his anger and his feelings of betrayal regarding Ciara might just make things impossible for him in that manner. Speaking of Ciara, she is going to visit Ben in prison, and she does not have good news to bring him. She has to tell him a few things, none of which will make him feel good about anything going on right now. It's been a long road, and that is not something we can handle for her.
Meanwhile, Stefano has some big situation for Kristin. He has to test her and her loyalty, and we think that she will probably cause more problems than she doesn't create, but that is not the point right now. The point is that she's got so much more to offer if she just allows herself to sit back and create something better in her life. Gina is not happy when John has some questions about Steve, either, and we can see that her ruse is probably close to being completely up if she cannot get it together and keep her life as it is.
Stay tuned for more Days of Our Lives and be sure to check out TVOvermind daily for the latest Days of Our Lives spoilers, news, and updates.