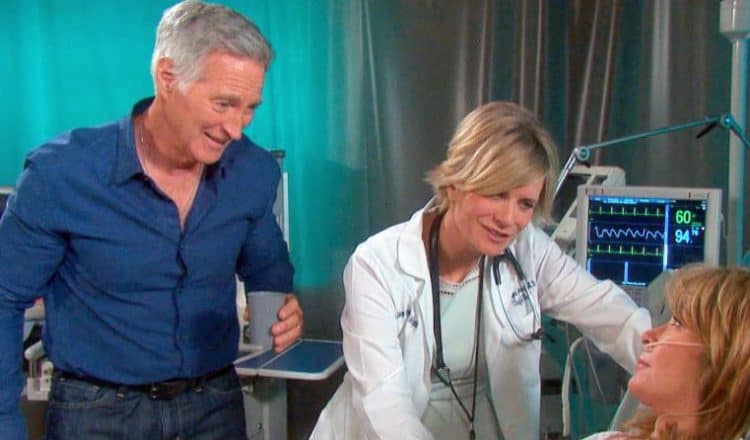 Days of Our Lives fans are not all that surprised that things are going down the way they are. Sami is learning the truth about what happened to her mother and all the other things she's been led to believe so far, and she's not impressed. She's making deals with Stefan to find out what happened to her mother, and she's crossing lines she can't uncross anytime in the near future. She's a mess, and there is very little that anyone can do at this moment in time to stop what she's doing. She's made some enemies, and she's created a monster for herself. She's not making any friends, that's for certain. She's come back to town and done little more than make everyone in her life miserable, and that's where she's been as a person. That's not what she's wanting, but it's what she's accomplished so far. What she does next will determine a lot for her.
The same goes for what is going on with Will and Paul. We all know that he has no feelings for Paul at this point, but he's not willing to hurt him. We all think he really wants to be with Sonny, but he cannot seem to make the commitment he needs to make to him at this point. He's not in a good place with this, but he's also not in a bad place in other situations. He's going to continue along this path for the moment, but he will change his mind at some point. For now, however, he will not have much else to do with Sonny until he has to say goodbye to Paul. It's not right now, but we know that Paul will be out soon and that's all there is to it. Will they make it?
What's Happening on Days of Our Lives
This can't be good! #DAYS pic.twitter.com/228goHJh7e

— Days of our Lives (@nbcdays) October 2, 2018
We may or may not have a clue what is going on right here, but we can say that it doesn't look good. A man without a shirt is always a nice thing to see, but this doesn't seem to be one of those things that's going anywhere positive. Any guesses as to what it might be?
What's Next on Days of Our Lives
Who pulled the trigger on Marlena? And is this really Lucas' baby? Get ready for answers. Watch #DAYS of our Lives, weekdays on NBC. pic.twitter.com/9vDCCNAppF

— Days of our Lives (@nbcdays) September 28, 2018
Chad is still not sure what he wants from his wife. She's pregnant with the baby of another man, and he doesn't love that. We all know that he's the real father of her baby, but the only person in Salem who knows this is Gabi — and Kate. And they will do anything they can to make sure Abigail doesn't get to stay with her man. Chad is still on the road to confused, and he's not sure where to go and what to do to make things work with his wife. Abby, on the other hand, is certain that Gabi is doing this to her. She's not wrong, but Gabi simply has the upper hand at this point. She's placed something in Abigail's bedroom that makes her look like she's done something that makes her guilty. And Chad is going to find it.
He has no idea what is going on and why, but he will not know what to do when he finds this. He will be reeling with the information he finds her in her bedroom, and working on his marriage to her at this point is not something he thinks he can do. He can't find a way to make this work or to make himself feel good, so he's going to go outside his marriage to find it. Gabi might just win this one, and we are certain that she might be feeling good right about now. JJ, on the other hand, is conflicted with the information his sister is sharing versus what his ex has told him.
Stay tuned for more Days of Our Lives and be sure to check out TVOvermind daily for the latest Days of Our Lives spoilers, news, and updates.
Tell us what's wrong with this post? How could we improve it? :)
Let us improve this post!