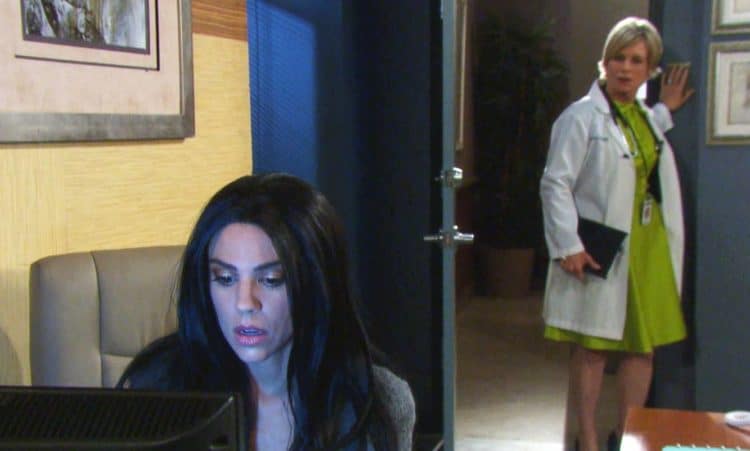 Days of Our Lives fans aren't sure how this last week is going to go with all the holiday fanfare, but we can tell you that it will last in a way that makes us all feel like we may have more questions than we have answers. For example, we know that things got a lot worse for Chad already this week than they were before. Victor came down hard on him for what he feels he did to Sonny and his life. He is not happy with the way things went nor the role that Chad had in all of it, and that ended up poorly for Chad. His life is already a mess, and he might not be capable of handling this punishment and what it means for his future. He's also lost a lot of the relationship he and Sonny had in the past, and that's not good news for him at all.
Then there was the fact that Julie's digging finally showed some answers for her. She knows that Gabi is behind all that is going on in the lives of these people. She knows that Gabi did to Chad and Abigail. She knows what she's been up to all these months, and she now knows the truth about this baby. But that's not all. She's someone who feels good that she can take her down, but we worry that Gabi will go to any lengths to keep this secret to herself. It's not good news for her or the people in their lives, but we hope that we can get this to work out for her in some way other than how it's already worked out. Abigail tried to get Kayla to tell her more about what she knows about Gabi, and we think this is the beginning of the end for her.
What's Happening on Days of Our Lives
https://twitter.com/nbcdays/status/1074757392640794624?ref_src=twsrc%5Etfw
Well, this is one of those things you didn't think you'd ever see, yet here you are seeing it for the first time and it is amazing. We love this.
What's Next on Days of Our Lives
Julie learns the truth about what Gabi has done… and pays dearly for it. Watch #DAYS, weekdays on NBC. pic.twitter.com/iJdQMDO7Ak

— Days of our Lives (@nbcdays) December 14, 2018
Julie is in big trouble. She's found out what is going on with Gabi, and she knows all of it. She knows that there is nothing that Gabi hasn't done to make Abigail's life miserable, and she's well aware that they all know that this is what she's done. She's worked to take her down, she's going to make it happen, but Gabi is not happy about any of this. She's aware that this happened and that this is a problem in her life now, and we know that nothing in this situation will go well for her at all. But right now, we do have to wonder if there is much else that she can do. She's in trouble, and we hope that she will be all right. We know that Gabi will stop at nothing to keep this secret from everyone, but will she really go so far as to kill a woman for finding out the truth?
We don't know if she will or not, but we know that she will not have the opportunity. She will not have a chance to do that on her own, and she will not make it easy on anyone. She's going to end up having a few men come to her rescue, which is the best news. Chad and Sonny know that she is in trouble, and they are on to find her and save her life, but will they get there in time, or will there be a bigger problem for them to face?
Stay tuned for more Days of Our Lives and be sure to check out TVOvermind daily for the latest Days of Our Lives spoilers, news, and updates.