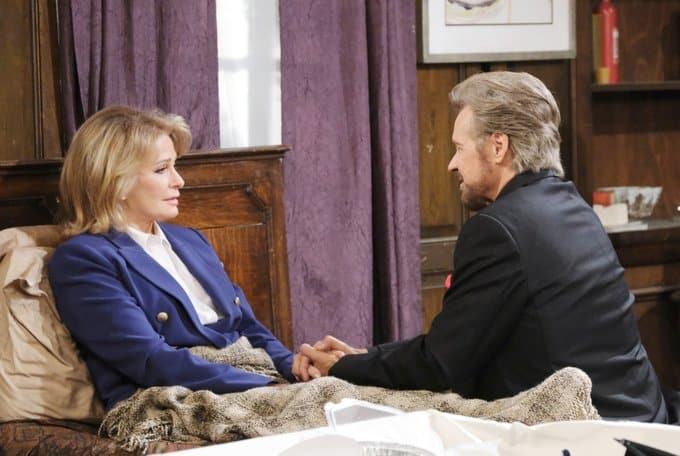 Days of Our Lives fans know that this week was a rough one, and it's not quite over yet. It's still in motion, and we are still figuring things out. For example, we all know that things are a mess with Will. He's furious with Victor for allowing things to happen to him like this. He knew that Will was not responsible for the death of Adrienne and that it was his own wife who caused the accident, and he covered it up to protect Maggie. Thankfully, she remembered, Will is free, but he's not free. He's got to live with the life he lived so long as a guilty person, and that's hard. He confronted Victor about it, but Victor — as usual — just does not care who he hurts, why he's hurting them, or what it means to anyone else. He's a mess who hates everyone.
Rafe and Sonny are busy with Evan. They want to know why he did what he did, what he was thinking when he did, and what he thinks his own future is going to look like at this point. He's not a happy man, and he clearly had a lot to go on when he came here to Salem and put everyone through this mess that he put them through. He's not a good person, and we can all tell that he is a mess in every single manner of speaking. He's not good, and they are going to get to the bottom of this. Nicole asked Xander about Dr. Raynor, too. She knows something is going on, and she's going to find out what it is. It's clear that Xander is hiding something, and she's not going to give up. His lack of answer gave her the answer she needed to keep her looking.
What's Happening on Days of Our Lives
https://twitter.com/nbcdays/status/1222669040495104000?ref_src=twsrc%5Etfw
We are still celebrating this.
What's Next on Days of Our Lives
A birthmark reveals the truth about Sarah's baby and Xander and Victor's baby-swapping scheme. Watch #DAYS, weekdays on @NBC. pic.twitter.com/JlENp2zGIi

— Days of our Lives (@nbcdays) March 7, 2020
Evan is doing all he can to make everyone miserable in their lives right now, and that is a big problem for everyone. He isn't happy that he got caught doing what he was doing or that Sonny is no longer interested in spending any time with him, but he is also going to meet up with someone soon. He's going to find that he has a friend who is going to help him out. Someone we might not expect to see at all, and we will probably be shocked to hear the truth. This might turn into something that's a bit much for us. It might turn into something we cannot handle. It might turn into the worst mess of all the messes. We don't even know.
Kristin is going to ask Eric if she can hold his daughter. She has no idea that this baby is her own baby, but she will feel an instant connection and spark when she does hold this child in her arms for the first time. Will and Sonny have decided that they are going to recommit to their marriage, and they are going to work on everything. They have so much going on in their lives, and they are so happy to have this situation under their control. But, we also know that they are both departing soon. Meanwhile, Nicole is beginning to see the big picture. She's on the brink of realizing that baby Mickey is actually baby Rachel, and she's not sure what to do now.
Stay tuned for more Days of Our Lives and be sure to check out TVOvermind daily for the latest Days of Our Lives spoilers, news, and updates.