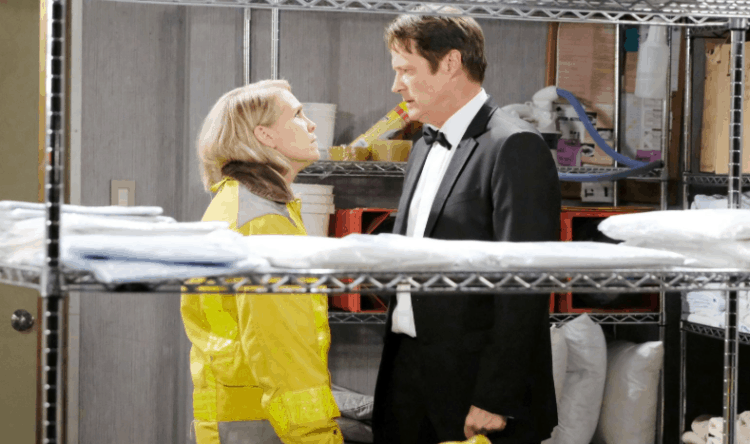 Days of Our Lives fans know that Eric will do anything in his power to ensure that he gets to be with Sarah and that she doesn't go off and marry Rex, but we aren't sure his deal will work out for him. We do admire that he at least put himself out there and asked for what he wants, and that's a nice thing. But, we don't think it will be in his personal mission to get her back. He can, however, channel that energy into getting his friend what she wants, which is the man she was married to back. Jack is being manipulated in a hard way by Eve, and we all know that Eric is not a big fan of Eve. If he marries her, there is a great chance that Jennifer will never get him back. She's already told her son she's worried for it, but he also has his own situation to deal with.
JJ is going to have to face the fact that the girl he's falling for is marrying another man so she can stay in town. Because he doesn't want to see her deported, he has to face that this is the actual situation he is in for the rest of his life. He knows what is going on, but how will he manage to make sure they get to spend their time together and be together if this is their situation? There is so much going on that we cannot handle, and this is one of those things that we cannot get past. There is too much going on that works for them, but that also doesn't work for them in the same place. They are in the middle of a catch 22 if there ever was one to be in the middle of.
What's Happening on Days of Our Lives
Is this the end of Hope and Rafe? #DAYS pic.twitter.com/XXMIGrHlSc

— Days of our Lives (@nbcdays) April 11, 2019
Sadly, we think that it is the end of their love and reign.
What's Next on Days of Our Lives
Cherish the time you have. #DAYS pic.twitter.com/JnxtZVG1sM

— Days of our Lives (@nbcdays) April 15, 2019
Everyone is currently on a mission to get what they want in live, and Brady is no exception. We already know he is not happy that Kate wants a job at Titan, but what will he do to ensure she does not get that job and work for the company? We think his wheels are currently spinning, and there might be a bit of a situation in front of him. Meanwhile, we also know that there is some stuff happening with Will, who has a tumor that will likely kill him. He had an episode, and we have to wonder if this is the beginning of the end for him. Will he come to the realization that this is it? Gabi is working diligently to make sure that Stefan is easily seduced by her, but he is in the middle of also wanting to see himself with Chloe, so this is not going her way. But, will she do more to make sure he turns into a man who wants her the most?
Chloe, on the other hand, is not at all happy that Brady is making changes in her life. She is not happy to find that he is working on some deceiving situations in the background, and she will not be happy when she finds out what he is up to. She is not a woman who is happy when things don't go her way, but she's also not a woman who will go out of her own way to stop them from doing what they feel they need to do. Maybe, though, she will.
Stay tuned for more Days of Our Lives and be sure to check out TVOvermind daily for the latest Days of Our Lives spoilers, news, and updates.