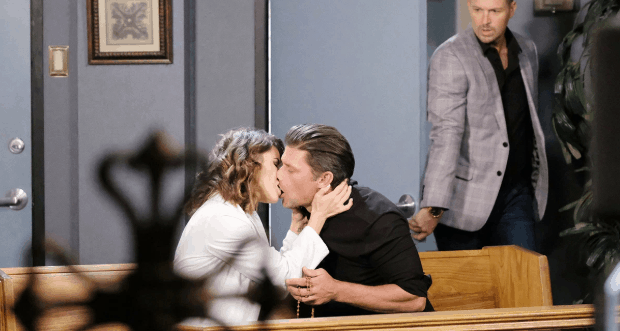 Days of Our Lives fans love their favorite stars, but sometimes they aren't as different from their characters as you might think. That's not to say they've died and come back to life a million and two times, but they sometimes get in a little trouble of their own. They might not be as big about making that obvious to their fans as they are moments in which they do something beautiful and wonderful, but the people of Salem aren't always so innocent. In fact, some of your favorite stars have been in a lot of legal trouble over the years, and they don't talk about it much. They prefer for it to stand in their past without much attention, but they're still so much better than the people they plan on television. Everyone makes mistakes, so we don't hate on them.
Dylan Patton
He might be one of the few whose criminal past is pretty ugly. He is a man who did a few things that brought him into a court of law, but what he did wasn't a light slap on the wrist. His charge was a felony count that is taken very seriously by the law. He ended up being arrested and charged with possession of cocaine, which is a highly illegal and highly addictive substance. He was caught dealing drugs from his family home a few years back, and he ended up caught when he brought an undercover police officer into the family home to make the deal. He ended up also being too close to a local elementary school — within 1,000 feet — and he ended up striking a deal that let him avoid the 9 years in jail he should have served. He got three years' probation for it.
Casey Moss
Sometimes you just have too much to drink and you make poor choices, and we choose to look at Moss' poor choice as one that is better than the other kind of poor choices he could have made. He didn't try to get into his car and leave the hotel in which he was drinking. In fact, he didn't try to leave at all. He wanted another drink and a bartender refused to give him one. He tried to order another drink, but he was already so drunk that they couldn't in good conscience serve him anything else to drink, so he tried to fight the bartender. He tried to punch him when he refused to serve him another drink, and he called for police backup when it happened. He was very drunk when police arrived on the scene, and they ended up arresting him and charging him with assault, disorderly conduct, and trying to fight the arresting officer while he was also resisting arrest in the meantime.
Freddie Smith
He did make a very poor choice that ended up badly injuring his longtime girlfriend at the time. They were guests of a wedding, and they left the wedding with very high blood alcohol content levels. He was driving, but he was too drunk to drive, and he caused a car accident in which he crashed his car and caused his girlfriend to suffer from horrible injuries that she struggled to recover from. He decided to plead guilty to the charge of vehicular assault and the misdemeanor of driving und the influence of alcohol. He ended up spending a lot of time on probation, two years to be precise. He also paid finds of $1,400 and he ended up having his license suspended for an entire year. This is one of those situations in which he did not try to fight his charges. He knew what he did was wrong. He knew that he made a mistake, and he knew that he was not in a good place in his life at that time. We know that his girlfriend took a lot of the damage from the accident, and things were not all right for her for a long time .There's a lot going on in their lives, and he did the right thing by taking responsibility for his actions and standing up and taking the consequences that were issued to him when he was wrong.