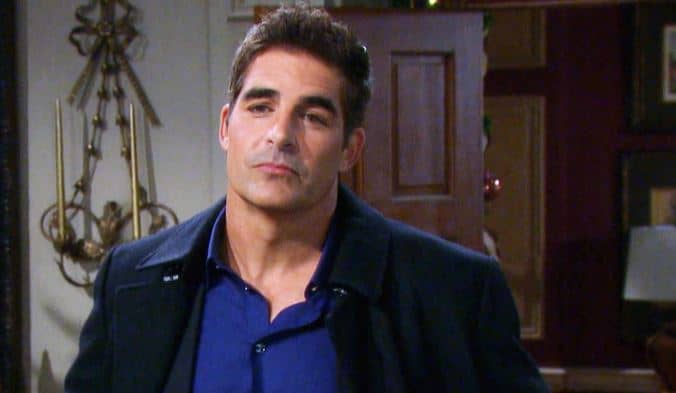 Days of Our Lives fans are just so excited that things finally worked out with the baby Charlotte situation. We've been waiting months for Chad to find out that this baby is his baby, and it's finally happened. And he is shocked. We don't blame him for being shocked, and we are not surprised he is so mad at Gabi. We are even less surprised that Abigail is so mad at Gabi. What she did was not just in line to ruin Abby's life. It was a plan set in motion to also ruin her daughter's life and to ruin her husband's life and the lives of everyone in their lives. It was a horrible thing to do, and it was a horrible way for them to live. It was a situation that didn't really make many people feel that they can survive any of this, and that's what it's all about. It's been a situation that has been under the control of everyone but them, and it's bad news.
She's furious, and she's coming to blows with Gabi. This was a showdown for the ages. But we also saw a moment between Trip and Claire as they are growing even closer. It's obvious to everyone in Salem that Ciara's heart is with Ben, and she and Tripp are no more. Her own mother is crushed by this announcement and this realization, but she cannot do much about it at this point. We can only sit back and relax and realize that there is too much going on for us to worry that this might not work for them. Finally, we got to see that Roman was kind enough and wonderful enough to arrange a very special moment between Will and Sonny. He knows this is a situation that they cannot handle, but he did what he could for the young loves.
What's Happening on Days of Our Lives
.@greg_vaughan has a merry message for #DAYS fans! 🎄 pic.twitter.com/XUsA2SxnwI

— Days of our Lives (@DaysPeacock) December 25, 2018
We do love a Christmas message when it comes from those we have so much respect for, and this is a special one. We hope that everyone had a wonderful day filled with wonderful things. It's what we love the most, and this is everything the season is all about.
What's Next on Days of Our Lives
Chad learns the truth about the paternity of Abigail's baby. Watch #DAYS, weekdays on NBC. pic.twitter.com/UwMgGyqVuh

— Days of our Lives (@nbcdays) December 21, 2018
Gabi is afraid for her life, and she should be. She's found herself at the mercy of Stefan, and he is less amused with her antics than even Chad and Abby were. He was under the impression that he had a baby, that he was a father, and it was all because she was a liar and a terrible person who wanted to make lives miserable. And she got her way. She not only made lives miserable, she ruined Stefan's. Finding out that all you thought was true is not true is a horrible situation and that is nothing that you can change at all is not a happy moment for many people. But we think that there is certainly a good chance that there is a lot going on around here.
But now she is afraid for her life, and we just are not sure that anyone else cares. No one knows she is in trouble. No one will look for her. No one will make any good progress in her life that will change her or her lives as they see fit. She will not find much in her world that will work for her, and we cannot help but assume that her life is a bigger mess now than it was in the past. She will not be good to anyone at all, but they will not care if he takes care of her. Well, they won't notice — that's the problem that she faces. They simply will not notice.
Stay tuned for more Days of Our Lives and be sure to check out TVOvermind daily for the latest Days of Our Lives spoilers, news, and updates.