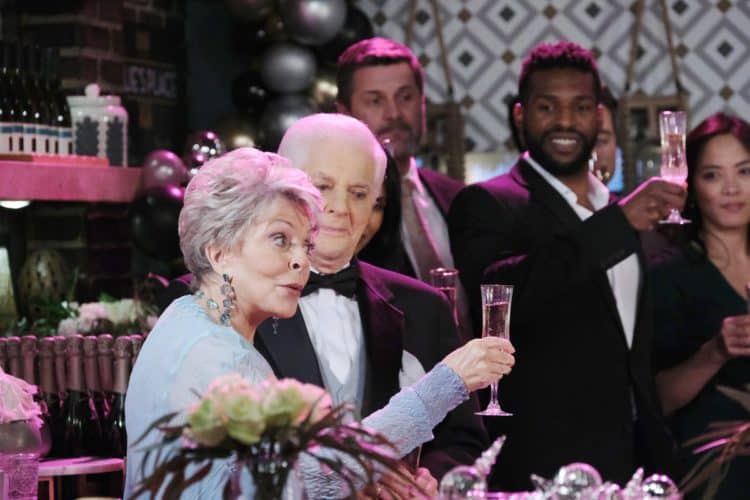 Days of Our Lives fans are worried for what will happen in the new year. We did not get to see a new episode appear on New Year's Day because it was a holiday, but we did leave off on Tuesday with a brand-new episode in which Julie and Doug had a party, and some people showed up without an invitation. Gabi and Eli learned what might have happened the night a rock went through the window at Gabi's shop, and they felt that they had little choice but to call Rafe and report what happened. Being that he is the brother of Gabi, she feels that he will do anything and everything that he can to make sure she gets the right things handled for her. What we don't know is how far this will go, and whether it will pan out in a way that is accurate and honest.
Kayla, Justin, Marlena, and John have a lot to talk about, and they did talk about it. You see, the hospital Christmas party was complete with a Santa Claus, but Kayla is convinced that she saw her husband, Steve, in the costume. She's not sure if she's just missing him or imagining things, but she cannot be sure. On the flip side of that is what Marlena and John think, which is that Stefano is back — alive and well and in town. What's ironic is that they are all slightly and a little bit right about what is going on, but not one of them can figure it out on their own. There will be a lot more of this as the new year begins, but we know how easy it is to forget what happened when you're only a day into things like vacation for the holiday season.
What's Happening on Days of Our Lives
In the latest #DAYS, Hattie persuades Roman to hire her to waitress at the Pub. pic.twitter.com/5X2R5N52YM

— Days of our Lives (@nbcdays) December 28, 2019
This will never end well.
What's Next on Days of Our Lives
Old flames interrupt the New Year's celebrations in Salem by revealing themselves – including Steve! Watch #DAYS, weekdays on @NBC. pic.twitter.com/kxPhAXcXo8

— Days of our Lives (@nbcdays) December 28, 2019
Kristin is not a happy woman since she came back to town. She immediately went to find Brady and let him know that she was looking to be with him only to realize that he was kissing Nicole. Now, she has no idea what is going on there, and she has no way to stop things from happening that are happening, but she has a chance to ger her life in order if she allows herself. Nicole kissed him, and he didn't see it coming. Things are not what they seem, but she's not sure about that, so she's going to attack Nicole and make herself right back into the horrible woman she was before when she was making poor choices. Did she learn nothing? That is how it seems right now. ON the other side of things, we do know she will attack Nicole and then tell Brady she's looking to be with him. She's a mess, but some things never do change.
Gabi is going to end up stunned herself. She's going to find out that Lani is back in town, and she's not going to be happy about that. She did make it very clear to her that she wanted her out of town, and she didn't want to see her face again. There is so very little we know about this, and we don't know if this is a situation we can change at all. But, for now, we also know that we can see things getting a little bit better for her than they were a year ago.
Stay tuned for more Days of Our Lives and be sure to check out TVOvermind daily for the latest Days of Our Lives spoilers, news, and updates.
Tell us what's wrong with this post? How could we improve it? :)
Let us improve this post!