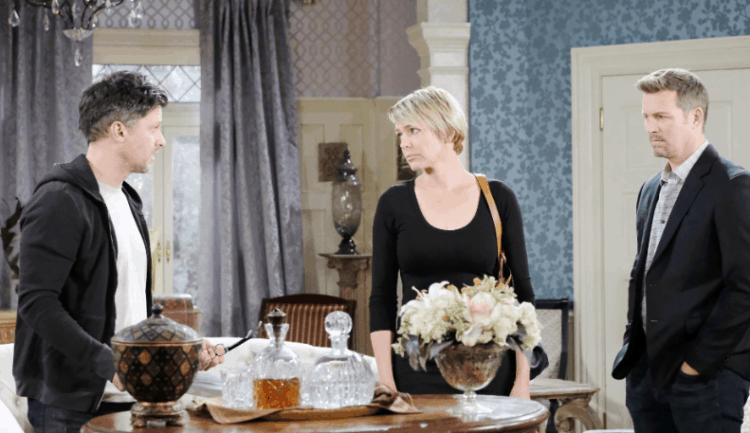 Days of Our Lives fans are not that surprised that Lani is trying to take over this baby boy's life. She's bonded hard with Jordan's baby while helping Rafe take care of him, and she seems to feel that she is his new mother, and she's trying to keep this baby safe. But, what she is doing is making everyone worse than they are. Ben is not a man who was always as healthy and well behaved as he is now, but he is working so hard to improve his life and himself, and he is looking to find a way to make his life good. He is taken his medication regularly. He is a good person behind this very deep mental issues, and he and Ciara are making a wonderful life for themselves together. They are taking things slow and trying to hard to make the best of their situation.
He met his nephew, and he fell hard for this little boy. He wants to spend time with the child, but Lani has decided that he is dangerous and should not be given this permission. She's been quite awful about it lately, and we are horrified for him that she is in this situation of making him feel this way. She's in no place to make these decisions, but the loss of her own baby last year is making her feel too much for this one. We are seeing a very similar story line on another soap these days, and it seems that some women cannot get over the deaths of their own children without bonding too much with the children of other people in a manner that might be borderline inappropriate. We aren't sure this is for the best, but we think she will cause a lot of problems.
What's Happening on Days of Our Lives
Stefan O Dimera @Tyler2929 meet Stefan O Dimera @BrandonBarash pic.twitter.com/mwaGEcK6yG

— Salem Couples (@Salem_Couples) May 7, 2019
When two men collide. It's good stuff.
What's Next on Days of Our Lives
Haley's deportation stirs up controversy. Watch #DAYS, weekdays on NBC. pic.twitter.com/x45D5ISbIN

— Days of our Lives (@nbcdays) May 10, 2019
We are just so sad that Rafe and Hope cannot work things out. He's removed his wedding ring, and she's decided that she will begin the process of filing for her divorce now that this has happened, and it's crushing our souls. They are so good together, but they always let things get in the way of their marriage without actually working to fix things. They miscommunicate more than any other couple we know, and it always leads them down this dark and awful road. We are not sure that they can make it without much else in their lives that are working for them, but this is really probably the end. We cannot see them working this out in another way and getting through this situation otherwise. It's sad.
There's another divorce in the works right now, too. There is the fact that Brady and Xander are in the process of figuring things out themselves, too. They have made a deal, and they will make it official. Brady has decided he will offer something to Xander if he is willing to go out of his way to divorce Nicole and let her live her life. But, will he do it, and how will that work for all of them? Will they get this situation under control, or will Brady end up owing the devil more than he can afford to pay him? We are pulling for that one, but he will do anything he can right now to help this woman who just lost her baby.
Stay tuned for more Days of Our Lives and be sure to check out TVOvermind daily for the latest Days of Our Lives spoilers, news, and updates.
Tell us what's wrong with this post? How could we improve it? :)
Let us improve this post!