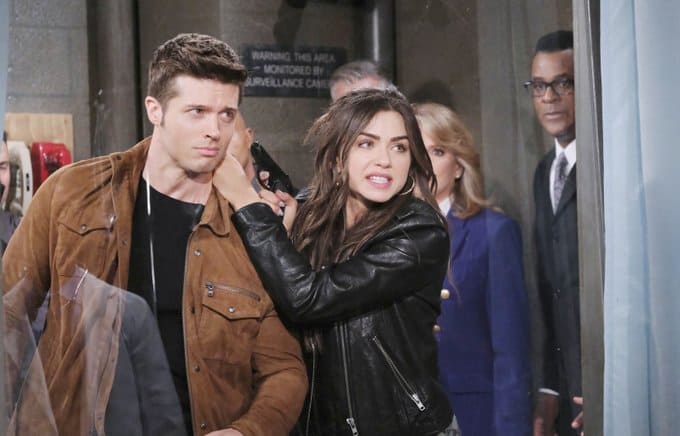 Days of Our Lives fans know last week was a wild one. From Ciara doing all she could to save the life of the man she loved as he flatlined in prison following his lethal injection to finding out that Evan is the father of Jordan's baby and that he is the man who killed Ben's sister and tried to frame Ben to finding out he was holding Sonny hostage at gunpoint; it was wild. Things are taking a turn, but not before we all felt the crushing blow that was Ben's life ending. He flat lined, and we all thought that he'd never make it in his life. He's not a man who had a lot of options when it came to that. He tried to escape, he got caught, and he had to face the consequences. Thankfully, we know that he will not die and that he will be just fine — and free.
Nicole is on a mission that she has no idea is going to hurt her. She knows that Dr. Raynor and Xander are hiding something, and she's going to find out what it is. She's not sure yet, but she's going to find out that they are hiding the fact that they took a baby from Kristin and Brady and gave that baby to Sarah when her baby died at birth. The coverup is huge and ugly, and there is nothing that we can do to stop her from finding out. She's going to find herself back in the exact same situation she was in before, just a little different, and she's going to have to make a choice. We think it's safe to say she will make the wrong choice and that it will not end well — at all — for her, Eric, or for Sarah and the baby.
What's Happening on Days of Our Lives
In the latest #DAYS, Ciara shows up and tries to convince the warden that Jordan's real killer is Evan. https://t.co/ZsCmiozQaB pic.twitter.com/Z3qhgDpzBS

— Days of our Lives (@nbcdays) March 3, 2020
Is she too late?
What's Next on Days of Our Lives
Is this the end for Ben? As his execution begins, Ben calls out for Ciara. Watch #DAYS, weekdays on @NBC. pic.twitter.com/xjY70XXMYc

— Days of our Lives (@nbcdays) February 29, 2020
Marlena had to do what she had to do to save her friend, Kayla, and now she's spending the week forced to be with Rolf and undergo a procedure that will not end well. She's doing all she can to talk herself out of that, but we don't know that she will make it through without some help from someone else. John, Justin, and Kayla didn't find that things went their way last week, and now they are all in danger and no one is good about it. They have to find a way to save the people they love, but they are currently feeling like there is not a chance and there is not a way for this to work for them. It's going to be fine, but probably not right yet.
Then there is Chad. His dad has control of his mind, and he's got Chad trying to smother Gabi and take her life. Which means that we were right last week when we tried to guess which of the many people Stefano dislikes that he would try to kill first. We don't think Chad will succeed, and we hope that someone recognizes that there is clearly more going on than meets the eye. This is not him, and we hope that they see that and that they are going to be able to put a stop to what he is doing. But, we don't think that anyone will catch on this fast. No one does. Look how long they all thought that Princess Gina was Hope.
Stay tuned for more Days of Our Lives and be sure to check out TVOvermind daily for the latest Days of Our Lives spoilers, news, and updates.