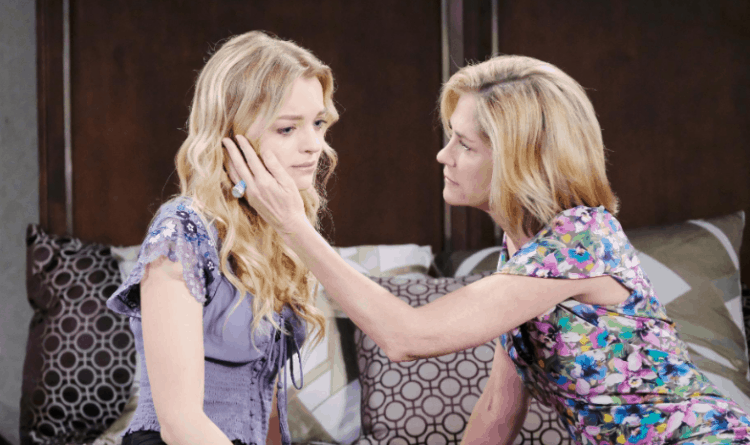 Days of Our Lives fans are just not all that curious about how this all happened with Jordan in comparison to how curious we are about what Hope is thinking with Ted. He spent so much time working behind her back, lying, and setting things up to appear that she was sleeping with him when she was doing nothing of the sort, and she knows this. She knows what he did and how he works, and yet here she is allowing him to touch her. And that's not even counting the fact that she's clearly married and just recommitted herself to her husband. Sure, he's back with a bombshell that might change her mind about him and their life together, but she has to give him some grace and stop acting like this. She's a hot mess right now, and there doesn't seem to be much we can do to stop her from acting like this kind of animal.
Meanwhile, her husband is back in town with some surprising news. Jordan does, in fact, have a baby. And no one knows who the father of her baby is. There is a great deal of mystery surrounding this one, but we all know that the speculation is on him being the baby's father and him being the man who will need to take care of this baby. Either way, she's locked up and cannot care for the baby — and he will do it himself. We are almost sure of this, and we are almost just as certain that his wife will not be even remotely amused by this decision. She will not want to do this, and this could be the moment that she changes her mind about him — and he cannot give up the concept of helping this young woman with her baby.
What's Happening on Days of Our Lives
https://twitter.com/nbcdays/status/1113516694734016512?ref_src=twsrc%5Etfw
If that's not the most amazing selfie, we don't know what is.
What's Next on Days of Our Lives
Hope and Rafe's marriage is in jeopardy after new romantic overtures from Ted and Jordan's baby reveal. Watch Days of our Lives, weekdays on NBC. #DAYS pic.twitter.com/6OEF0X4RRU

— Days of our Lives (@nbcdays) March 29, 2019
We don't take a lot of things for granted around here, but we do think that there is a lot happening that we cannot predict, handle, or want to deal with. For one, we are all upset about this baby and how it is affecting Hope and Rafe, but we are more upset by the way Brady has been acting lately. He's a mess, and he's working hard to make everyone else a mess, too. He's working very hard to make sure he can control all the things that are not his business to try and control, and we get that he has to focus on things that are giving him life. We are certain he is making sure he gets what he wants through Gabi, and he needs to leave Eric and Sarah alone.
Abe and Sheila are going to find that they have some serious sparks between them, and fans are loving that. There is so much we'd like to see happen for them, and a little love is not something we'd be too silly to ignore. Will they take it anywhere, or will they let that go and move on to bigger and less than amusing things? Jack is going to hold his mayoral rally today, too, and we think that something is going to go down. It might be something that works for him, and it might not be. Either way, though, Eve has a big announcement that comes across more like a bombshell than anything else — and we wonder if there are wedding bells in the future.
Stay tuned for more Days of Our Lives and be sure to check out TVOvermind daily for the latest Days of Our Lives spoilers, news, and updates.
Tell us what's wrong with this post? How could we improve it? :)
Let us improve this post!