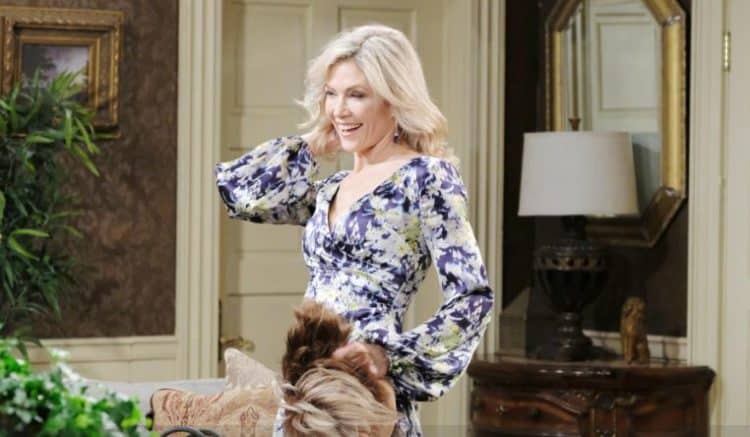 Days of Our Lives fans know that Gabi had the bright idea of making sure that Stefan could save the company by marrying her, and he has agreed to it. There is nothing that is going to happen that won't work for them, and that's a good thing. He might be able to save DiMera with her plan, but maybe her plan isn't so much about saving the company as it is about getting to be a part of it or at least getting to be a married woman. It's not going to be something that goes well for everyone involved if she's not being entirely honest, but that's how we see things going. We see things making a point for at least her being a wife, but is this part of her plan to get back at him for what she feels he did to her in the past when the entire Gabby situation was going on? It might be, but we do think she cares for him.
They're prepping for the wedding, but we aren't sure someone won't come into town and try to ruin it. It's a lot, and that's a thing. But, we know so much about it. Meanwhile, Jack is demanding a divorce from Eve, and we all know she is not about to give that to him. She's not going to lose out on all the things that are working well in her life, and that's where she stands as a person. But, he might think he can save that. Jennifer got some upsetting news, but does this have anything to do with the fact that there is anything going on with Jack and with Eve? Does she feel that what Eve did might derail him from ever getting back to himself? We can't decide.
What's Happening on Days of Our Lives
We can hardly wait to see some of our favorite #DAYS stars in Houston! 🙌 pic.twitter.com/smAMQ8hRPd

— Days of our Lives (@DaysPeacock) July 30, 2019
This looks like it will be a fun situation.
What's Next on Days of Our Lives
Next week everything changes for four Salem couples. Watch #DAYS, weekdays on NBC. pic.twitter.com/1PK61bJnis

— Days of our Lives (@nbcdays) July 26, 2019
It seems that there is a lot going on with fake Nicole, and she's not a happy camper. She's trying very hard to get Brady to fall in line with her plans and with her situation, and it is not working for her at all. She's got to get this situation to fall into place, but he's not doing what she wants him to do. She can probably trick him, of course, and we don't put that pasts her at all. Jennifer, of course, is not happy with Eve. She knows what she did to Jack and how she's trying to get to him to get him to stay himself as he is now versus who he really is as a person, and now she's going to hear about herself from Jennifer. Of course, Eve finds Jennifer a pain, and she's not that affected by her or the treatment she's going through in the moment. We are not surprised by this at all, of course.
Meanwhile, we also know Fake Nicole is going to find out Tony disappeared, and she's not about to be very happy about that one, either. She's not too impressed with the way things are going around here, and she is about to lose her mind when it comes to those around her. She's unhappy, not working through her situation well, and her entire plan hinges on what is happening in the moment. Can she get past this, or what will happen to her now that this is all going on?
Stay tuned for more Days of Our Lives and be sure to check out TVOvermind daily for the latest Days of Our Lives spoilers, news, and updates.
Tell us what's wrong with this post? How could we improve it? :)
Let us improve this post!