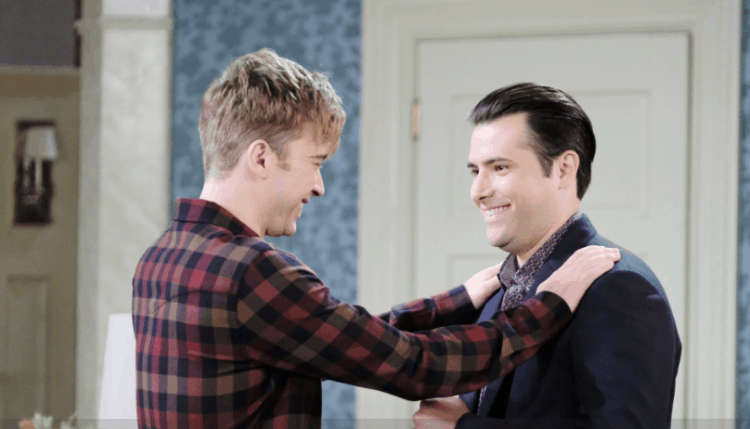 Days of Our Lives fans are not all that surprised that the things went down the way they did this week. Claire is a monster who is acting like she is all kinds of surprised that Haley was arrested. She's unhappy that the girl is living with Tripp, even though she is not at all interested in him. She's all about what is going own with the people who are in her life otherwise, which is JJ and other things that she has to focus on. But she's living with Tripp, which has Claire feeling murderous with rage right now. And then there is the fact that she's got so much animosity toward everyone else, too. She's in a place where she's just feeling mean and spiteful, and she's not happy about anything in her life. Claire acted surprised when Haley was arrested, but we know she had everything to do with that and then some.
And then there is Marlena, who is not all right. There is so much stuff going on in the middle of what is a lonely time for her as her husband was caught lying. He recently revealed to Leo that they are father and son, and now Leo is spreading that wonderful news to Brady who does not want to hear it. He's not at all thrilled that his father has another son, and he's especially not thrilled that he's learned it's this man. Leo is not a friend of anyone, and we know that he is a mess in so many more ways than we can even expect. Things will not work for him, and we are not going to be denied a horrible battle for daddy issues with this one if we had to guess. It's got all the classic markings for that story line.
What's Happening on Days of Our Lives
Finally ❤️❤️ pic.twitter.com/ROkEmU2nRh

— BettaKlaineRobron♥ (@elirobron2) March 13, 2019
Is there a chance they can win this love of theirs back?
What's Next on Days of Our Lives
To come between John and Marlena, Diana carries out a deadly plan. Watch Days of our Lives, weekdays on NBC. #DAYS pic.twitter.com/mmKFF7dEH7

— Days of our Lives (@nbcdays) March 8, 2019
John is doing all he can for his wife in her moment of need. He's spending all of his time by her side working so hard to keep her alive. He is praying for her, hoping for her, and doing all he can to make sure she can hear him as he asks her to wake up and be fine. He is a mess, and he is not allowing her to be alone in this moment. This is why it will come as a horrible shock and surprise to him when he finds out what a nurse that's been working with her has to say. She will go out of her way to convince him that she is sure that it's Kristen who did this to her, but we know better than that. We might not know what her angle is with this one, but we get that there is nothing factual about any of this.
She is not the one who did this. Diana did this. She has her own agenda in the making, but we aren't sure that John is aware of this. We have a feeling that Brady might try to figure out what is going on, and he might have a good starting point when he realizes that it is Leo and his mother who are working so hard on making this happen. They have a plan, and they have an ultimate goal, and it is not one that works out in anyone's favor but their own.
Stay tuned for more Days of Our Lives and be sure to check out TVOvermind daily for the latest Days of Our Lives spoilers, news, and updates.
Tell us what's wrong with this post? How could we improve it? :)
Let us improve this post!