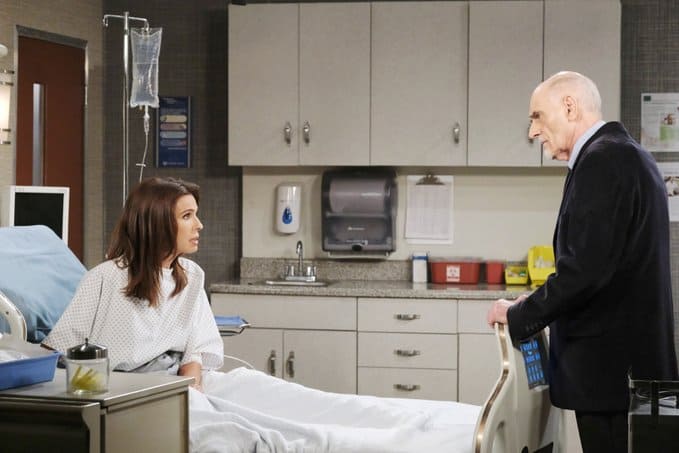 Days of Our Lives fans know this week has to end with a bang. It has to, right? Xander knows that Nicole knows what he and Victor did to the babies, and he knows she will stop at nothing to stop them from what they are continuing to do with this lie. There is so much going on right now that we cannot even handle it, and we are horribly beside ourselves that this is going on. We aren't sure how to focus on things that are going on outside of this reality, but it is what it is. We know things will turn around at some point, but when and how? She's going to end up in danger if we had to guess, but that is all there is to know about it. Victor is not going to allow her to continue on in her life even though this is happening.
Stefano asked his son to organize a family reunion, so that is what he is doing. He's on a mission to get them all in one place that he can spend some time with them, which we are fairly certain is code for hurting them in some capacity. He's a horrible person who does horrible things on his own time, and we know this. We know he will use this as a chance to make people miserable, and to do whatever he can to change that game. He's not going to allow anyone to make it out without his permission. Meanwhile, Kristin and Brady have to do what they have to do to change their own lives. They have to figure this out and make it work for them, but can they? Can they change things in their lives by thinking of their daughter and making changes?
What's Happening on Days of Our Lives
With all that's happening right now and staying close to #home #🙏 I discovered https://t.co/QaGewq5ez6 #healthy #glutenfree #delicioso !!!! #thankyou https://t.co/xqJKUfsm8I #4 our delicious #meal #tonight , which #dishes did I… https://t.co/VUT8l5QNip

— Kristian Alfonso (@kristianalfonso) March 19, 2020
Keeping it real.
What's Next on Days of Our Lives
Salem's list of villains just got longer – Orpheus is back! Watch #DAYS, weekdays on @NBC. pic.twitter.com/w4XkEvJaEd

— Days of our Lives (@nbcdays) March 13, 2020
Chad is finally going to do what his father has mind controlled him do to and he's going to try again to kill both Gabi and Kate. And while we don't think he will get it done, we wonder if there is a chance that he can make that work for him. He's got a lot going on right now, of course, but we also know that there is a chance that he might actually get some control of his own mind back and he might be able to stop this, right? They both know that this is not him, and they have to know what is going on, but we cannot figure out a way for them to stop this and make it right. There is nothing good about this right now, and we are worried for both of them. But, it will happen as it happens.
Meanwhile, we know that Nicole is going to do what she can to pick a fight with Kristin. We don't know why she is doing this. She's got some big information in her world right now, and we don't know what is going on. Why she's doing this, what is up with that, and how she feels. This must be part of a bigger plan in her mind, but we just don't get what she is up to and how she is doing this in her life. Hope is going to do what she can to get information from Kayla about all she did when she was Gina, and she's not going to like what she learns about it.
Stay tuned for more Days of Our Lives and be sure to check out TVOvermind daily for the latest Days of Our Lives spoilers, news, and updates.