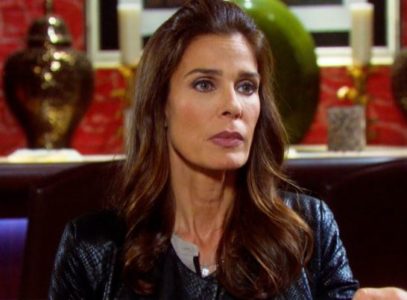 Days of Our Lives spoilers tell us it's going to be a very bad day for Claire. Hope and Abe are borrowing Theo's laptop, and they won't be very happy when a video begins to play and they recognize the people in the video. It's none other than Theo and Claire, in bed. When Jade promised she'd deleted the video she planned on sharing with everyone, she lied about it. She did nothing of the sort, and she actually kept it by not doing a thorough job of the delete process. Now Hope's seen in, and she's got a long lecture to give to Claire.
She's got her own issues to work out with her granddaughter now that Belle and Shawn are away, and she's not going to be happy about it at all. To say Hope is shocked is the biggest understatement of the season. She's more than shocked. She's downright upset and unhappy, and she cannot even handle what's being thrown at her right now. She's going to have words with Claire, but will she tell Belle and Shawn what happened?
Ciara has left, and it's left Hope without a daughter of her own to deal with. Now that she's keeping an eye out on Claire, is she going to go overboard with her own issues or will she eventually feel she has to learn to let it go? She's not going to handle this well, but she's got a lot to offer her granddaughter if she will just listen to her.