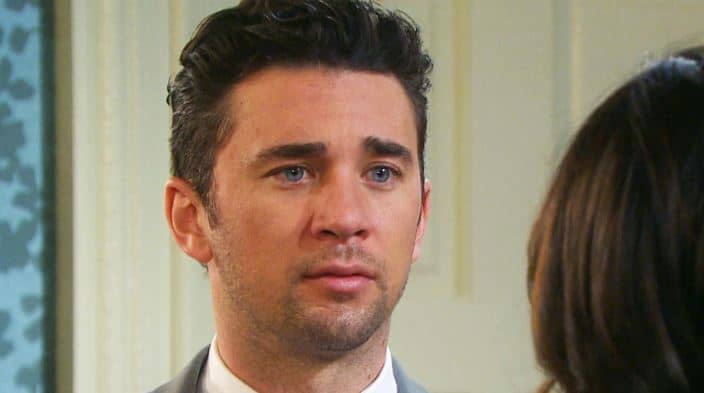 Days of Our Lives fans are just heartbroken for Eric. He and Nicole just aren't meant to be. They've had their chance to find love so many times, and it hasn't worked for them at all. They just can't make it work. They cannot make it happen for themselves, and they cannot seem to find a way to make sure they're able to get their lives together. There is a chance that he will never be the same again after this, but we all felt saddened and crushed for him when he received the news about Nicole. He will never feel completely happy again for the rest of his life, and we get that. He's lost the love of his life, and it's not the first time that this has happened. However, this is the first time he's going to live with the knowledge that nothing he do will bring her back to him. This is not something he can easily handle.
Chad and JJ are both in the same boat with their situation with Abby. They think she's lost her mind thanks to all that Gabi has planned and has done to her, and it's not true. They want to see her seek some medical help, and she's not ready to do that. She doesn't need to do that. She's right about what is going on in her life, and she needs her brother and her husband to believe in her. We get that this will not happen right now, but there is a chance that she will find out that she can prove this and that it will not make a difference to her until then. She can get them on her side, but we don't know that this will work for her otherwise. Can she get them to change their minds?
What's Happening on Days of Our Lives
All of Salem is hoping to see you at Day of #DAYS! pic.twitter.com/pX9n6FF9yG

— Days of our Lives (@nbcdays) October 22, 2018
If you love your favorite Days cast members, you want to be in California on November 10 to see them all at Citywalk. It's going to be one of those events in which you get to meet people you love, get some photos, and some autographs, and even more than that. You will not want to miss this when the day comes.
What's Next on Days of Our Lives
Can Eric rescue Nicole from certain death? Watch Days of our Lives, weekdays on NBC. pic.twitter.com/C3NQ7FnNPe

— Days of our Lives (@nbcdays) October 19, 2018
We are going to see that Abigail is about to make a new friend. Well, friend might be an unlikely term. She's going to find an ally. She needs someone on her side now that her own brother and her husband both want to see her seek medical help and want to commit her. She knows she's not crazy, and she knows the problems she is having in her life are not signs of her personalities coming back. She knows darn well that this is something that Gabi has created for her in her life to make sure she can take over her life and get what she wants to make things easier on her. She's not someone who can prove this, though, when so many people are already against her and not believing in her. She's not going to stop trying to prove that there is nothing wrong with her, though. She's committed to making sure they all learn the truth soon.
And then there is the fact that Chad is worried about his wife. Gabi's plan continues to work. She's managed to make it look like Abigail has lost her mind and not done anything well or good. She's a mess, and she's not going to have much else to deal with right now. She can't just sit back and figure things out on her own, but she can figure them out as she's working on her situation the way it needs to be worked on. She's on this, and she's not letting it go. He needs to prepare for this.
Stay tuned for more Days of Our Lives and be sure to check out TVOvermind daily for the latest Days of Our Lives spoilers, news, and updates.