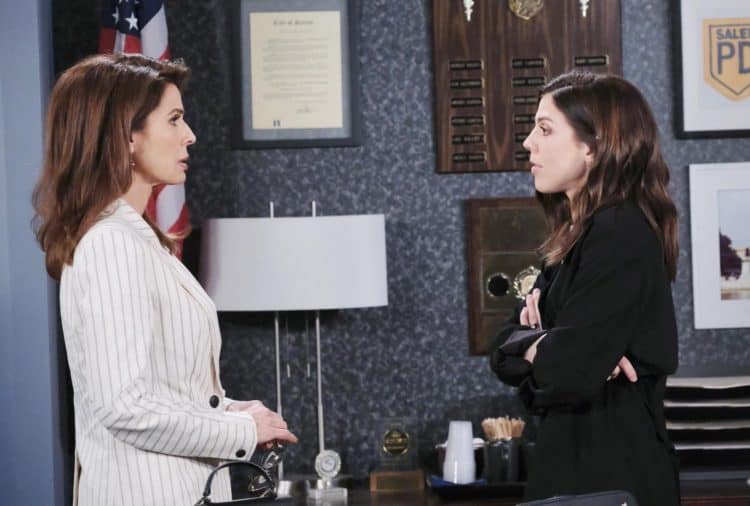 Days of Our Lives fans are hurting for Lani in the wake of what she's learned now that JJ is around and is giving her all the updates about what is gong on in Salem since she left. She did not see this coming, and she is not in a good place because of it. She didn't see that the woman who ruined her life and forced her to leave behind all that she knows and loves is in a place where she has decided to date Lani's ex. The fact that Gabi is now with Eli is too much for her to handle and to bear, and she is nothing short of totally shocked about all of it. She cannot handle it, she is not at all prepared for it, and she cannot figure out what to do with this information. She's in a bad place right now, but she's still trying to stop JJ from killing Kristin and doing something to ruin his own life forever.
Then there is what is going on with Gabi, as she tries to kick Chad out of the house. She is clearly paranoid, and she's not making rational decisions, but that doesn't seem to be a situation she can pull herself out of. She is nothing short of a mess, and everyone can see it. Well, everyone but Eli, it seems. What he sees in her is nothing short of a mystery to all of us, which is probably what is making Lani feel so hurt and so confused about all of this. Kate's secret is out, and things are taking quite the turn for her, too. She's got a lot on her mind, but that doesn't mean anyone else has any time for her, and it's not going to change for her soon.
What's Happening on Days of Our Lives
https://twitter.com/kristianalfonso/status/1189330956752248832?ref_src=twsrc%5Etfw
But is she really welcome?
What's Next on Days of Our Lives
Eli discovers Lani is a nun, while JJ goes after Kristen. Watch #DAYS, weekdays on @NBC. pic.twitter.com/i73wZEinte

— Days of our Lives (@nbcdays) December 7, 2019
Today is going to be a terrible day in Salem. We hate when bad things happen to children, but this is exactly what the day brings for those who are so in love with Baby Mickey. Eric only just found out he is the father of this little baby, and he is a man who is not happy about being kept out of this for so long. He would have liked to have been there for Sarah throughout her pregnancy. She would have liked to have had him there, but she was afraid of ruining his happiness with Nicole when she knew that she was his one true love. Nicole also kept the secret from him, the secret that he is a father, and he's not sure he can ever forgive either of them for lying to him about a baby. But, now their baby is getting a diagnosis that will force them to spend time together. Their baby has cancer, and every heart is about to break.
Meanwhile, we also know that there is nothing good happening for Hope. She is not happy with the fact that Abigail is being so adamant that she's sure it was not Eve who pushed her own mother down. She has no idea that Hope is actually Princess Gina, either, so this is not a good thing. She's going to try and get rid of Abby for good now that she's in this situation. Ben, on the other hand, has to tell Ciara that things for him are getting worse as far as he legal situation is concerned. It's not a good day around here for anyone.
Stay tuned for more Days of Our Lives and be sure to check out TVOvermind daily for the latest Days of Our Lives spoilers, news, and updates.