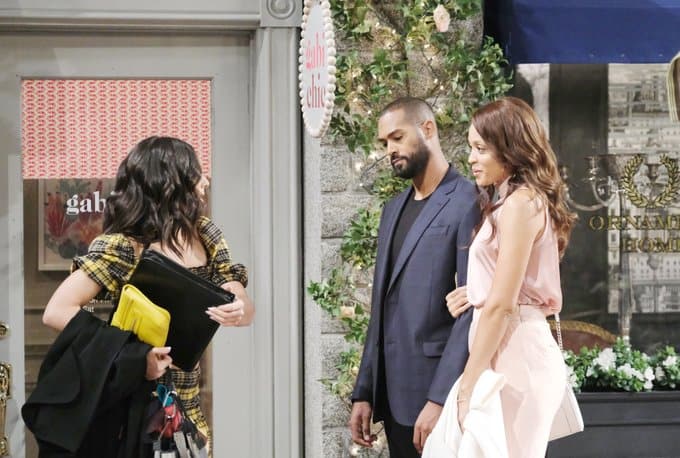 Days of Our Lives fans are not happy about more than a few things right now. For one, we know that Kayla is going to do anything she can to save Steve and bring him back as her own, but that is not going well. She and Sarah are horrified when things start to go wrong during his surgery. They didn't know there would be so many complications, but it's happening right now. All the things that are going wrong are happening, and they don't know what to do. They have to make some quick decisions, and they have to do it now. How will this end up? We don't know, but we know for certain that she is not giving up an she is not backing down right now as this is all coming to a close. This is a situation we can control if we just let this be what it is.
Eric is having the most horrible day of his life saying goodbye to his daughter. She is not his to love as a father. She belongs to Brady and to Kristin, and he has to tell them the truth. He has to tell them that his own baby died at birth — and we aren't sure he will ever get over the fact that he never got to meet her. He never got to see this baby and never got to love her or even see her face, and that might be something he struggles with for some time. He may eventually find that he cannot ever forgive Sarah or Nicole for keeping this from him. It's not in his heart. But, then there is Sonny. He's got a surprise request from Xander, of all people, and we might not be okay with this in the least.
What's Happening on Days of Our Lives
We'll find a way to get through this together. https://t.co/iMTBF3aIme

— Days of our Lives (@nbcdays) April 7, 2020
We will find a way.
What's Next on Days of Our Lives
The baby drama is reaching new heights. Watch #DAYS, weekdays on @NBC. pic.twitter.com/20gt3hZVP8

— Days of our Lives (@nbcdays) April 3, 2020
Justin is having hard days. The conversation he had with Kayla about their relationship did not leave him feeling any better about things in their lives, and now he is facing a situation that is not going to work well for him. He's so worried he will lose her, and things will not work in his favor — and he's not sure how or what to do with that in his life. He's got a lot riding on what happens to Steve. He knows that Steve is the love of Kayla's life, but he might come back and ruin things for him. He's going to have a conversation with Jennifer about this, and it might not go that well. She might not help him feel better about things, as a whole. She might remind him that his gut is probably right — and she might tell him it's time to cut his losses now.
Victor and Xander are in a place where they are going to have a moment. They have to focus on things in their own situation as they continuously unravel around them, but this is a moment that might just make us all feel a little better about things. Meanwhile, we also know that Eric and Nicole have to do something big — on Sarah's wedding day. They have to go in and tell her the truth about the baby and that the man she is about to marry is the one who lied and di this to her and their family. Will she still marry him, or will this be the end of all things for them?
Stay tuned for more Days of Our Lives and be sure to check out TVOvermind daily for the latest Days of Our Lives spoilers, news, and updates.