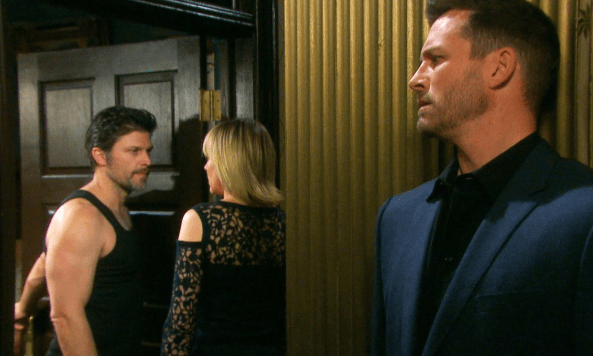 Days of Our Lives fans are no strangers to death and deception. In fact, we are sure we see more death around here than anything else, but it's not quite as difficult to process now as it once was. Why? Because so many characters come right back. Whether they're back a week after they die or they come back a few years later, we aren't so sad to see people go any longer. They come back to the show more often than they do not, and that means we have some hope we will continue to see them, love them, and get to see more of their craziness on our screens. But, that doesn't change the fact that we have some problems otherwise. Sometimes, their deaths are just so insanely ridiculous we cannot get on board with them. We get that it's television, and drama is the goal, but some of these deaths are so insane that even we are raising an eyebrow.
Stefan DiMera's Fiery Death
There was so much about this early 90s death that had us wondering what on earth writer's were thinking. First, what was really the chance that he was in a Mayan ruin in Mexico with a bunch of horrible people all wanting him to die, and then John was there to save him and accidentally killed him on his own? He was there to get this man back, but he ended up being the kind of man who accidentally shot his own gun, it scared DiMera, and it caused him to stumble and fall into a volcano of fire? Even we have to admit that it was one of the show's worst deaths, and not because we were horrified that it happened. We were just horrified that anyone thought this was a great way to send someone off into one of their many fake deaths. And poor John had to live with the fact that it was all his fault for many years.
Cassie Brady and the Pinata
We just have to take a moment to allow this one to process. She was killed when someone stabbed her. That's normal. Well, it's not normal, but at least it's a relatively normal way to die in the real world. Some people kill you with a knife, some with a gun, and few people in the real world kill people by pushing them into fires or over cliffs and things like that. But, she was killed by the Salem Stalker, and she didn't even have that much time to live here before she died. She came into Salem, and then she departed Salem in about as much time as it took her to get there. She was someone who didn't have a chance, but she didn't get to die in a great way, either. She was stabbed with part of a pinata, which we are fairly certain is nothing more than paper and maybe some glue. It didn't work for us, and we are still wondering what they were thinking when she died like this. It was 2003, for goodness sake.
Marina Toscano's Head Injury
She's got a major role on the Bold and the Beautiful, so we don't get to see her anywhere else that often. She did, however, have a very quick role on the show in the 90s, and we do mean quick. She was a woman who came into the scene and looked for some evidence that would make her life and her fame and fortune a real thing, but she didn't find it. Instead, she found out that her sister escaped from her mental institution and followed her to her hotel room. There, she decided that they would have a fight. It involved a gun, but it was not the gun that killed her. The crazed sister accidentally knocked her down as they struggled for the gun, and it caused her to hit her head. On the floor. She didn't even hit it on the edge of a table or something cool like that. She hit her head on the floor, she died, and that was the end of her. We're glad she's in LA to keep us entertained over there.