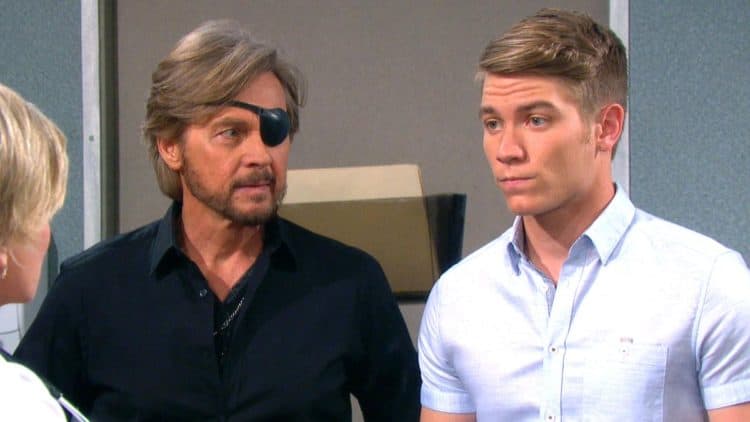 Days of Our Lives fans know that not everything that happens around here is going to be an amazing adventure. Some things are just an adventure that makes a little sense for now, but that doesn't stick with you the rest of your life. There are some things, however, that are never going to leave you. Things that will stick with you and stay on your mind for the rest of your life. These are the moments that are never to be forgotten because they become iconic. They may not seem like much when they happen, but they end up being those things that you never forget. Defining moments, if you will. These are things you don't see coming, but you never forget came.
When Roman Died
No one saw this coming, and it killed everyone. It was a horrible moment for all involved, and we aren't sure how this was a moment that ever comes across as anything other than horrible. The day was 1984. The time was Roman. There was nothing. There was not a thing that needed to be done, and there was nothing that worked for anyone. He and Stefano were fighting, and he fell — we say that loosely — off a cliff and died. There was a horrible time for Marlena to be had when she found out her husband was killed. Thankfully, she was able to move on to a more beautiful love story with another man, which was another moment that really did change the way things would go despite the fact that we didn't know it at the time.
When John Arrived
Do you even remember a time when John Black was not part of the cast? A time when he was not a staple in Salem? We don't, but it seems there was a time when this was the truth. It was the time that Marlena was struggling to raise her twins. Sami and Eric were little, their father was gone, and everything was a mess in all of their lives. Then in walked Roman. Except he wasn't Roman. He was a man by the name of John Black. It was all a big mystery because everyone thought he really was Roman, but then the real Roman came back to life even though he was Roman, but then things weren't like that, and we still don't actually have a darn clue who John Black is other than a man who seems to have nothing but a life to live. He's not someone we dislike, but it's easy for us to forget that we don't know all that much about him if we are being that honest.
Steve's Patch Removal
Fans don't know what is behind his patch and what he is doing with it, but Kayla does know. She knows that there is an entire situation going on behind that patch, and she knows that things are not going to change for her. The moment we are talking about is the moment that she fell for him so long ago in the 80s. He wasn't the best kind of person, and he came into town with a lot of drama and some questionable situations. But, then it all came crashing down. He was injured, she was his nurse, and she was able to take it off and see what lies behind the patch. She didn't even flinch. So, while we might not know what is back there and what the problem really is, we all know that there is nothing short of a total feeling of love for that moment. She doesn't care what it is, she loves him regardless. It's a beautiful thing.
Ben's Rescue of Ciara
Remember when we were all worried that he would kill her when he pulled her from that accident and took her to safety? And then they fell for one another? That was one of those moments that means so much to us. That is a moment that didn't register for even a second until it did, and now we have a feeling that it will go down in history as one of the greatest and best love stories on the show. One day, fans will look back in disbelief that he was ever a bad guy.