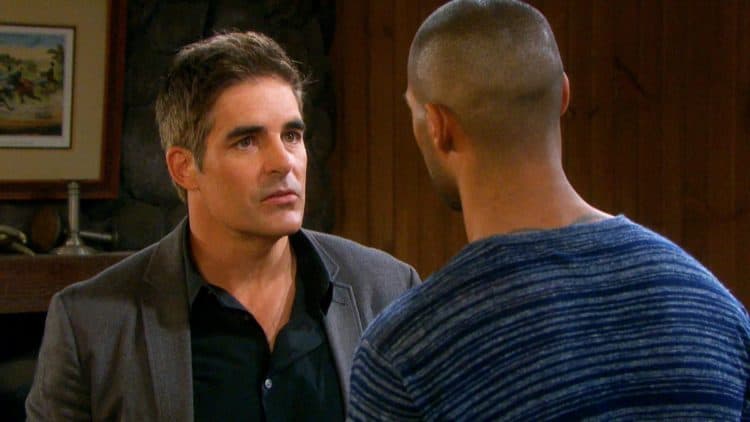 Days of Our Lives fans know that love does not really last around here. For some, it definitely lasts longer than others, and for others it might last a lifetime but that doesn't mean that people will actually be together. Of course, we've seen more changes in the past few months than we have in a long time since the show took a total change and went into the future a full year. People didn't make it. People did make it. Things changed, and we might not even know why they changed or how they changed or what the heck happened to and for some of them. However, we can see that there are some couples fans never want to see back together — but we don't see that lasting. Here's who you don't want to see get back together, but we think they will.
Gabi and Eli
Well, we can say with certainty that we were right about this one. When she was a bit more normal and a little nicer and a lot less dramatic because she'd yet to fall into her really evil ways, we still didn't want to see them together. You see, they have literally not one ounce of chemistry with one another. They have nothing to offer one another. They have nothing. They are nothing when they are together, unless you are a fan of boring and not exciting and really not cool at all. But, that's what we got. They are suddenly together again, and we just aren't loving it. We aren't sure that they will make it, thank goodness, but we can't decide how long this will happen for them. Will it continue now that Lani is back, or will there be more time for them to grow further apart than they are.
Rafe and Sami
There's been very little about Sami in a while, but we hear she's coming back sooner rather than later, which tells us that she might just be here for the long haul. She doesn't stick around when she comes back for longer than a few weeks — maybe a month or two — at a time, but she's always looking for a way to get back into Rafe's life. Now that he is a single man and he's not got an issue with seeing whomever it is he wants to see, we can see him making a move on her if she did come back. Or, rather, we can see her making a move on him and him not doing much of anything about it. That would be a thing.
Brady and Kristin
There was a hot second when she got pregnant pretending to be Nicole and we thought that this might be a thing, but she was gone as quick as she was here. But, now she's back, and we think that she's going to do anything and everything in her power to make sure this happens and that this works and that this is a thing that will make things work for her. She is someone we don't care for as a whole, but she's looking to make some changes and do some things and make things right in her life, and this might just happen.
Hope and Rafe
There was a time when we thought that they were the best couple, and we really did like them together. But that time has passed. We think that she was her worst self ever when she was with Rafe, and we think that her happiness level just wasn't there. He is not and will never be the love of her life, and she was settling with him when that was their thing. But, we can see him fighting hard to get her back from the Princess Gina situation, and we can see him falling for her all over again when she's back and when she's grateful to him for rescuing her and making her happy again. If, and that's a big if, they do get back together again, will they ever find a way to be happy or will she ultimately be settling for a man who doesn't bring her the kind of joy she really and truly wants in her life?