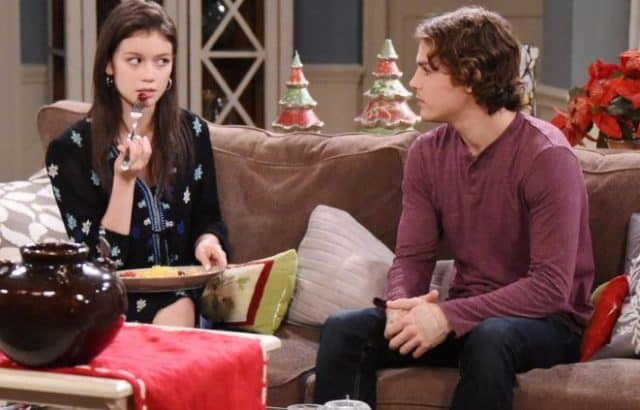 Fans of Days of Our Lives are about to learn that the romantic meeting of Chad and Abigail is going to take a little longer. Previous spoilers indicated it might happen on Monday or Tuesday, but it seems it might not happen until later in the week. What does happen is going to create a little more drama. It turns out that Abigail hasn't gone back to the DiMera mansion to reveal herself to her son yet, but she does go back to see her husband. However, she finds that just as she arrives, Gabi and Chad are in the midst of a kiss that looks quite impressive.
Gabi was upset that JJ was lying to her again, and she decides to head into the mansion to see Chad, where she kisses him. Of course, the problem we have with this other than the fact that Abigail is forced to watch it all is that Gabi knows Abby is alive. She's chosen to say nothing to Chad, and she's chosen to pursue a relationship with him despite knowing his wife is still alive. What kind of person does that, when she knows how much he misses the wife he thinks is dead? She also knows these two have a son together, and she's not making a very good choice.
We have a feeling that Chad is going to be quite upset when he finds out Gabi's known Abby is alive, and we have a feeling that neither of the women he cares for is going to be on his list of favorite people when he finds this out. They're both keeping secrets from him that will change his life for the better, and they're both too selfish to tell him what's going on.
Once Abby sees Gabi and Chad kissing, she's going to run to Andre. She's got to have someone on her side, and she seems to think he can help even though they have a bit of a complicated history from her supposed death. It almost seems he really wants to help her, too, and we wonder what he might have up his sleeve in the meantime.