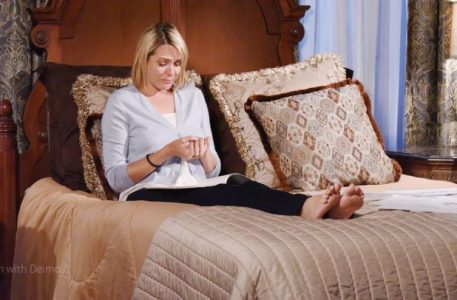 It's time, and fans of Days of Our Lives are ready to see what's going to happen now that Chad knows Abigail is alive. On a brand-new episode of the hit drama, we will find out what happens when Chad sees his dead wife alive and well for the first time since she shocked her family by arriving on their doorstep a few weeks ago. We don't know how she does it, but she's going to make her way into the house without Chad being aware she is there, and she's going to pick up her baby boy. He is going to be happy to see his mother alive and well, but poor Thomas is too young to understand where his mommy has been and what's been going on. He's just a baby, but he is still going to be rather excited to see his mother for the first time.
The moment everyone is waiting for, however, is the moment when Chad walks into the room and sees the wife he thought was dead standing with their son in her arms. What will he do? Will he think he's seeing things? We don't know, but we imagine he will be shocked, confused, and just plain happy to see his wife. In fact, we know for certain he is going to embrace her with happy tears in his eyes and sheer joy that she is alive. She didn't expect this kind of reunion after assuming he and Gabi were serious, and Abigail is going to be overjoyed.
We don't think it will last, though. We have a feeling that once Chad finds out how long Abigail has been back home with her mother and brother without showing herself to him, he's going to be furious and hurt. We think he will see it as selfish and upsetting, and we think her secrecy is what will cause a rift between these two. Will they get through this together, or will Chad turn to Gabi to talk about his feelings, therefore becoming more attached to her even though he now knows his wife is alive and well?