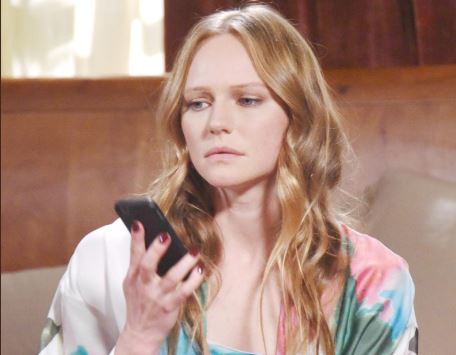 Days of Our Lives fans were shocked when Theresa was given custody of Tate. Well, maybe not shocked. It did seem like she went right out of her way to make sure Brady looked like the worst possible person ever to live on the earth, so we are not entirely surprised he wasn't given custody of his son. However, he was shocked, horrified, and upset when the judge made the announcement. Fans were horrified, and we all felt for him when this news was announced. It was sad, and there is nothing we can do about it at this point. However, his reaction was just as sad as we imagined it might be, and we even think that Theresa felt a little bad about it. And we wonder how JJ felt about it after what he did for her in the last few weeks?
And then there was the moment when Abigail's paternity test showed up. It proved to her that she was having a baby with her beloved husband, Chad, which is the best news she could have hoped for at this point. However, her "Friend" Gabi decided that in her quest for revenge, she would change the results and make it look as if Stefan is the father. This is not the news that Abby wants, and it's not news she can handle. She's emotional, fragile, and in a bad state right now. Thinking that her alter ego got pregnant using her body with a man she doesn't love is horrible to her, and now she has to tell her husband all about it. It's not good news. We also saw that things with Stefan aren't working out so well for Kayla, and the meeting about a new eye for Steve is not going to go the way they hoped as a result.
What's Happening on Days of Our Lives
We can't wait to see what the future holds for #Cin! #DAYS https://t.co/ElRuePJ8cf

— Days of our Lives (@nbcdays) July 13, 2018
We said it before, and we will say it again — the people want to see Ciara and Ben together. They even came up with a name for them. It's Cin. And that seems pretty accurate for what is going on with this couple. They don't belong together. She's too young, he's too much of a convicted murderer with some serious mental health issues, and they do not make a good couple. But we, and everyone else, seem to really love this pairing. Everyone keeps tweeting about how much they love this, too, so we think it might go somewhere.
What's Next on Days of Our Lives
Gabi weaves a tangled web by meddling with Abigail's paternity test results. Watch Days of our Lives, weekdays on NBC. https://t.co/2aXTF3w4C5

— Days of our Lives (@nbcdays) July 16, 2018
JJ is struggling, and we knew he would. He went out of his way to take the blame for all that his friend Theresa did so that she could win this battle and get her son, and now he has to live with the knowledge that he's hurt an entire family. He's suffering the consequences in other ways, too, and he can barely handle what's going on in his life. It's not good news for him, and he can't handle what's going on. But he will have to live with the decisions he made. And that means living with this. She's got her son, Brady is hurt, and the life of a little boy is now on the line as a result.
And then there is Abigail. She has to make a tough decision. She has to decide what she will do about her baby. She has to tell her husband she's pregnant, but does she? Could she handle this pregnancy without telling him now that she believes she knows who the father of her baby is? And if something happens and she ever finds out the truth about the baby and that it really is her husband's baby, can she live with that? Gabi might be very hurt by what Abby's alter ego did to her, but now she's in the market to potentially be the reason a baby is terminated, a life is changed forever, and no answer is the right answer. She's hurting so many more people than just Abigail.
Stay tuned for more Days of Our Lives and be sure to check out TVOvermind daily for the latest Days of Our Lives spoilers, news, and updates.