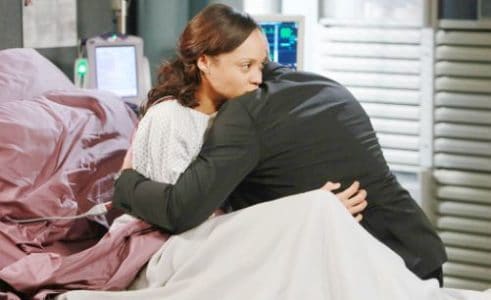 Days of Our Lives fans are going to see a horrible situation happen this week when Lani is rushed to the hospital in premature labor. She's got so much stress in her life she cannot even focus on a healthy pregnancy. She's lied to her fiancé, she's lied to everyone in her life, and she's made it her mission in life to keep a secret she just can't keep. This baby is not JJ's, and he has no idea. Unfortunately for Lani, Eli — the real father of the baby — has come clean to his own girlfriend about the situation. His mother also knows, and she's used every possible opportunity to talk to Lani about how much she disagrees with all this.
And now Lani is in distress, and we hear this is premature labor and a very big deal in her life. She's got to focus on things that are happening in her own life and fix them, but she can't really do that in the place she is right now. She's not going to help herself with all that's going on, and no one can seem to find a way to get her to work on her life otherwise.
The truth is about to come out, and it's not going to be good for anyone. We predict JJ will be crushed by this news and unable to move on with the way he feels. What will he do? How will he respond? Will he be all right when it all comes down to it?